Twenty-year-old, educated at Menuhin School in England, takes first prize in all-female final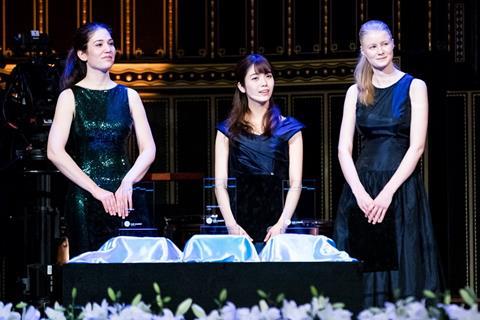 (l-r) Ágnes Langer, Ririko Takagi, and Cosima Soulez-Larivière. Photo: ©Liszt Academy/Zoltán Adrián
The first Bartók World Competition, organised by the Liszt Academy in Budapest, gave its top prize to Franco-Dutch violinist Cosima Soulez-Larivière in the grand final on 16 September.
Accompanied by the Hungarian Radio Symphony Orchestra under conductor János Kovács, Soulez-Larivière performed Beethoven's Violin Concerto. Second placed Ágnes Langer, from Hungary, played Bartók's Violin Concerto no.2, while Takagi Ririko from Japan took the third prize with her performance of the Tchaikovsky's concerto. The prizes are worth €22,000, €14,000 and €8,000 respectively.
The jury was chaired by Italian violinist and conductor Salvatore Accardo, and included an international array of violinists: Vilmos Szabadi, Barnabás Kelemen, Qian Zhou, Takashi Shimizu, Joel Smirnoff, Ivan Ženatý, and Krzysztof Wegrzyn – Soulez-Larivière's teacher at the Hochschule für Musik, Hannover – as well as musicologist Tibor Tallián.
Soulez-Larivière was born in Paris, before moving to England at age eight and attending the Menuhin School. She is currently studying at the Hochschule für Musik, Hannover. In 2015 she won the Johannes Brahms Competition in Pörtschach, Austria.
A number of engagements also come as part of the win, with offers for Soulez-Larivière from the Budapest Spring Festival, the Cziffra Festival, the Singapore Violin Festival, the Festival Academy Budapest, the Győr Philharmonic Orchestra, and the Franz Liszt Chamber Orchestra.