The members of the Pavel Haas Quartet celebrate 20 years together with a new recording of Brahms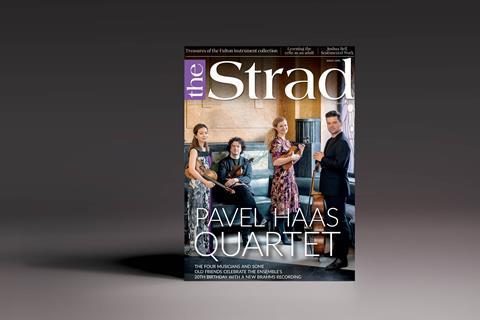 Pavel Haas Quartet at 20: The Czech foursome give a lively account of their first two decades together, and their upcoming Brahms recording, in conversation with Tom Stewart
Adult Beginner Cello: Cellist Billy Tobenkin's passion fo cello playing began at the ripe old age of 25. The late starter discusses the pitfalls and triumphs of his learning experience
The Fulton Collection: Christian Lloyd talks to American collector David Fulton about his legendary array of old Italian instruments, including some of the finest Stradivaris in existence
Session Report: The four members of the Navarra Quartet talk to Tim Homfray about their latest recoording of works by veteran British composer Edward Gregson
Serbian String Playing: The Balkan country's approach to teaching and playing has a distinct ethos where individuality goes hand in hand with mutual respect. Jacqueline Vanasse reports
Fluorescence: In recent years, examining instruments under different kinds of light has become standard practice. Leonhard Rank shows what secrets can be revealed
In our regular sections:
In Focus: Alberto Giordano examines a rare violin by Erminio Montefiori from 1892
Trade Secrets: Matthew Tucker reveals his 'plug and plate' method of repairing scrolls
My Space: Modena maker Lorenzo Frignani
Making Matters: Have we entered a 'second transition period' in violin and bow making?
Masterclass: Violinist Fedor Rudin on the first movement of Debussy's Violin Sonata
Technique: Double bassist Edwin Barker on phrasing musically under pressure
Life Lessons: With violinist Vadim Gluzman
Opinion: The importance of using imagery and visualisation in violin teaching
Postcard from Odense: The violin section of the Carl Nielsen International Competition
From the Archive: From June 1892
Sentimental Work: Joshua Bell explains his love for Wieniawski's Second Violin Concerto
Print subscribers also receive our 60-page annual Accessories supplement.
We also bring you news of the latest products and auctions, plus our regular analysis and opinion columns, and comprehensive reviews of concerts, recordings and books. Simply go to the latest magazine to explore the full content listing.
Plus, In your 160-page digital edition:
Read all about the Pavel Haas Quartet's 20th anniversary, along with audio clips from their latest Brahms CD
View the treasures of David Fulton's instrument collection, including front and back photos of the 'Sassoon', 'La Pucelle' and 'Baron Knoop' Stradivaris and the 'King Joseph' and 'Lord Wilton' Guarneris
Session Report: view more images of the Navarra Quartet recording Edward Gregson's two string quartets, while listening to audio clips
Highlights from the London auction season, including instruments by Pressenda, Gennaro Vinaccia and the Brothers Amati
More pictures from the world premiere of We Are Ukraine, a ballet miraculously performed in Lviv on 20 April 2022
In Focus: more of this month's featured violin by Genoese maker Erminio Montefiori, including all-round photos of the scroll
My Space: see all round the workshop of Modena violin and guitar maker Lorenzo Frignani
And they're back again: clips from those three lucky recordings bedecked with that singular handle 'The Strad Recommends'
The digital magazine and print edition are on sale now, or subscribe to access the entire magazine online here.