Andrew Dipper shows how the 1693 'Harrison' Stradivari violin signifies the start of a critical phase in the master luthier's career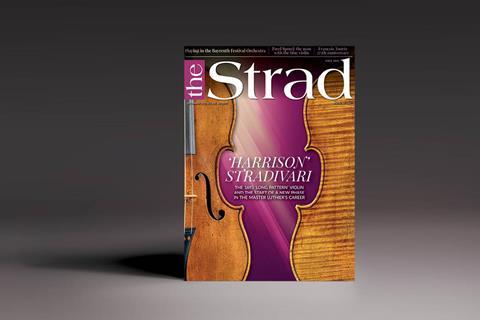 ANTONIO STRADIVARI 'HARRISON' VIOLIN 1693 A prime example of the master luthier's 'Long Pattern', it used to be the principal performing instrument of Kyung Wha Chung. Andrew Dipper takes a closer look
PAVEL ŠPORCL The Czech violinist tells Amanda Holloway about his world-premiere recording of Jan Kubelík's First Concerto – and why he chooses to play a blue violin
A VIOLINIST IN BAYREUTH Thomas Eisner of the London Philharmonic Orchestra reveals what went on when he joined the orchestra of the Bayreuth Festival this past summer
FRANÇOIS XAVIER TOURTE Born 275 years ago, the master bow maker displayed his creativity in every bow he crafted. Paul Childs compares and contrasts two examples from his late period
SESSION REPORT Peter Quantrill talks to cellist Pablo Ferrández about his collaboration with Anne-Sophie Mutter on a recording of Brahms and Clara Schumann
FELIX YANIEWICZ In 1815 the Polish–Lithuanian violinist and composer became one of the co-founders of the Edinburgh Festival. David Kettle tells his story
In our regular sections:
IN FOCUS David Rattray inspects a 1756 Baroque cello by Scottish luthier Robert Duncan
TRADE SECRETS Michael Daddona presents a detailed method for fitting a violin bridge
MY SPACE Edinburgh-based maker Steve Burnett
MAKING MATTERS How the set-up can change an instrument's timbre and volume
MASTERCLASS Timothy Ridout on playing Hummel's Potpourri for viola and orchestra
TECHNIQUE Methods of playing jazz, Indian and Middle Eastern music
LIFE LESSONS Violinist Vesko Eschkenazy
OPINION Why playing chamber music is instrumental to the learning process
POSTCARD FROM SANTANDER A report from the 2022 Encounter festival in Spain
FROM THE ARCHIVE From December 1902
SENTIMENTAL WORK Philippe Quint explains what the Franck Violin Sonata means to him
We also bring you news of the latest products and auctions, plus our regular analysis and opinion columns, and comprehensive reviews of concerts, recordings and books. Simply go to the latest magazine to explore the full content listing.
Plus, in your December digital edition:
Read Pavel Šporcl's thoughts on making the world premiere recording of Jan Kubelík's Violin Concerto, while listening to audio clips
Read Thomas Eisner's thoughts on playing at Bayreuth, with a gallery of images from the operas he performed in
More photos from Encounter, the annual music festival in Santander, Spain, in this month's Postcard
Listen to clips from the Brahms 'Double' Concerto by Pablo Ferrandez and Anne-Sophie Mutter, while reading this month's Session Report
Track the development of violinist Vesko Eschkenazy over his teenage years in Life Lessons
Extra images of this month's In Focus instrument, a 1786 Baroque cello by Robert Duncan
My Space: more from luthier Steve Burnett's Edinburgh workshop
Plus three recordings deemed worthy of the epithet 'The Strad Recommends'
The digital magazine and print edition are on sale now, or subscribe to access the entire magazine online here.