French Baroque violinist Théotime Langlois de Swarte introduces the works of long-forgotten composers to new audiences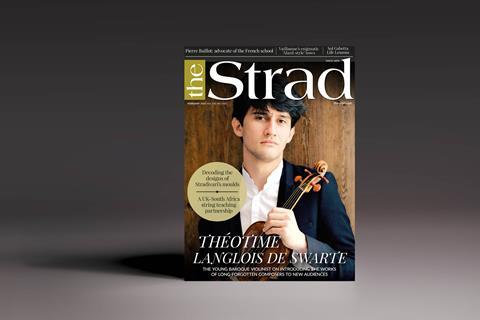 Théotime Langlois de Swarte: The Baroque violinist's career has taken off in the past year. Charlotte Gardner talks to him about his quest to popularise the works of long-lost composers
Vuillaume's 'Alard' Bows: Several examples from the maker's Paris workshop have an unusual frog design. Michel Samson examines why this innovation has been disregarded until now
Pierre Baillot: Martin Wulfhorst explores the career of the violinist and composer (1771–1842), explaining his importance and centrality to the French school of playing
Session Report: Julian Azkoul, artistic director of the United Strings of Europe, tells Toby Deller how its second album Renewal combines the themes of transformation and loss
Cremonese Violin Moulds: André Theunis and Alexandre Wajnberg present a theory showing how 16th-century luthiers may have based their violin proportions on musical principles
ARCO Project: The Royal Birmingham Conservatoire's partnership with a Soweto music centre has seen astonishing success, as head of strings Louise Lansdown reveals
In our regular sections:
Violist Konstantin Boyarsky discusses playing Bruch's Romance in this month's Masterclass, while double bassist David Allen Moore gives tips on how to build on bow curves in Technique. Philippe Graffin shares his love for the Elgar Violin Concerto in this month's Sentimental Work, while Argentinian cellist Sol Gabetta shares her memories and opinions in Life Lessons. This month's Opinion features Rita Fernandes on why classical musicians should take inspiration from the world of stand-up comedy.
We take an In Focus look at a 16th-century vihuela de arco and My Space features Paris-based luthier Florent Boyer. Robin Jousson presents his design for a device to measure string tension in Trade Secrets, while Wenjie Cai and Hwang-Ching Tai examine whether or not an 18th-century violinist would have been able to afford a Stradivari in Making Matters.
We also bring you news of the latest products and auctions, plus our regular analysis and opinion columns, and comprehensive reviews of concerts, recordings and books. Simply go to the current issue to explore the full content listing.
Plus, in your February 2022 digital edition:
Read about the United Strings of Europe's second album Renewal, including extra photos from the session and audio clips from the album
View more photos from Royal Birmingham Conservatoire's collaboration with music schools in South Africa
Read Philippe Graffin's thoughts on the Elgar Violin Concerto in Sentimental Work, accompanied by clips from his 2006 recording of the piece with the Royal Liverpool Philharmonic Orchestra under Vernon Handley
Detailed images of this month's In Focus instrument, a very rare 16th-century vihuela de arco, including CT scans
More photos from the workshop of Paris-based luthier Florent Boyer in My Space
And of course, clips from the three recordings this month bestowed with the esteemed moniker 'The Strad Recommends'
The digital magazine and print edition are on sale now, or subscribe to access the entire magazine online here.