Doric Quartet: celebrating 20 years together – plus the impact of a new matching set of classical bows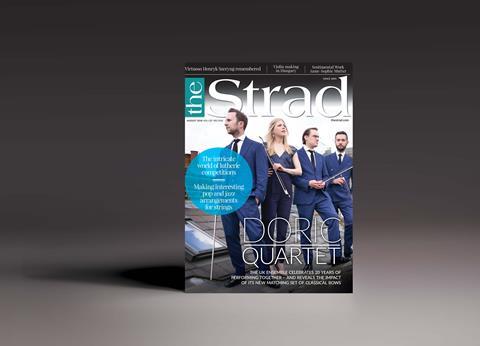 The Strad August 2018 issue is out now, in which the Doric Quartet talk to us about two decades together, and how a new set of Classical bows is affecting their sound and technique.
With three of the top lutherie competitions happening this year, we talk to jurors and previous winners to find out some of the secrets of their success; and we tap into the art of arranging pop music for strings.
Henryk Szeryng's widow Waltraud gives The Strad a landmark interview, in what would have been the Polish–Mexican virtuoso's 100th birthday year; Traian Boală of the Arcadia Quartet tells us about the ensemble's latest project, a long-cherished dream of recording Bartók's complete string quartets; and we find out how Hungary's violin making industry got back on its feet after the fall of Communism.
In our regular sections:
In Focus features an 1812 Giuseppe Marconcini violin; Berl Mendenhall gives his personal method for purfling in Trade Secrets; My Space features the workshop of Palestinian luthier Shehada Shalalda; and in Making Matters, Andrew Tait restores an unusual violin that saw action in the First World War.
Our monthly Masterclass features Jonathan Brown, violist with the Casals Quartet, on Beethoven's F major Quartet; Chris West gives tips for double bassists on thumb position in Technique; Australian violist and composer Brett Dean tells us his Life Lessons; plus Anne-Sophie Mutter on what Penderecki's Metamorphosen means to her in Sentimental Work.
We also bring you news of the latest competitions, products and auctions, and comprehensive reviews of concerts, CDs and books.
In this month's digital edition, we take a privileged peek into the new 'Precious Instruments, Illustrious Names' exhibition of Baroque instruments in Piedmont, Italy, and get further into this month's In Focus instrument, a fascinating violin from 1812 by Giuseppe Marconcini – including interior photos and a comparison showing the evolution of his scrolls. There are more workshop images from this month's My Space denizen, Palestinian luthier Shehada Shalalda, and we delve further into the world of Hungarian violin making, with extra photos of makers past and present.
We also include audio clips from some of this month's featured stars, including the Doric Quartet with its upcoming Mendelssohn recording, Anne-Sophie Mutter with her Sentimental Work (Penderecki's Metamorphosen) and archive clips of Henryk Szeryng, who would have been 100 years old this year. Plus, as ever, a chance to hear the three recordings with the coveted 'The Strad Recommends' sticker.
The digital magazine and print edition are on sale now.
Do YOU have something to say about the new issue – or about the strings world generally? For your chance to win a bundle of premium accessories, send letters to the editor at thestrad@thestrad.com.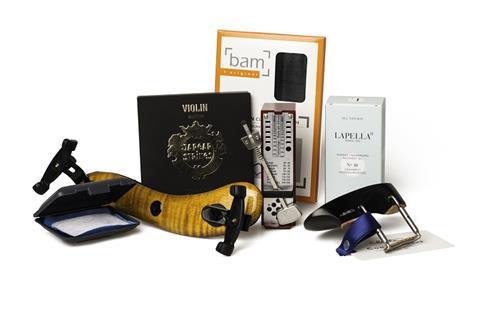 Letter of the Month wins:
Stretto Humidifier
VLM-Augustin Diamond Shoulder Rest (violin or viola)
Wittner Super Mini Taktell Metronome
Jargar Superior String set (violin, viola or cello)
BAM Cleaning Cloth
Götz New Flesch Chinrest with titanium screws (violin or viola)
Lapella Fingerboard Oil