The competition takes place from 17-19 June in Moscow and St Petersburg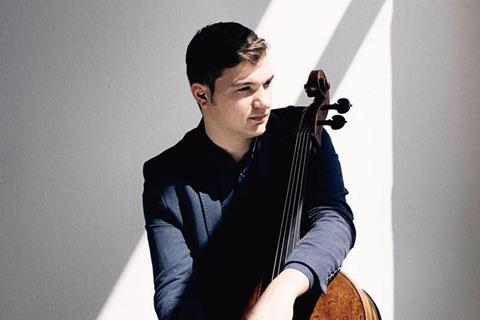 Having whittled down 954 applications (a record number), the 2019 Tchaikovsky Competition has announced its participants.
The violin and cello participants are as follows:
Violin:
Al-Ashhab Milan (Czech Republic)
Andersen Christopher Tun (Norway)
Balanas Kristine (Latvia)
Boschkor Lara (Germany)
Bouchkov Marc (Belgium)
Volkova Olga (Russia)
Gibboni Giuseppe (Italy)
Dogadin Sergey (Russia)
Zheleznyi Leonid (Russia)
Islyamov Ravil (Russia)
Kanagawa Mayumi (USA)
Kwasnikowska Roksana (Poland)
Kim Donghyun (South Korea)
Kim Stephen (USA)
Kitagawa Chisa (Japan)
Lee SooBeen (South Korea)
Menzel Albrecht (Germany)
Mohri Fumika (Japan)
Pritchin Aylen (Russia)
Savkina Anna (Russia)
Udovychenko Dmytro (Ukraine)
Hattori Monè (Japan)
Huang Sirena (USA)
Choi Elli (USA)
Etelavuori Sara (Finland)
Cello:
Amosov Fyodor (Russia)
Warenberg Alexander Simon (the Netherlands)
Gerassimez Wassily (Germany)
Gray Edward Johannes (USA)
Cañón-Valencia Santiago (Colombia)
Kim Ga Eun (South Korea)
Kloeckner Caspar Benedict (Germany)
Kobekina Anastasia (Russia)
Cohen Weissert Elia (Israel)
Croisé Christoph (Switzerland)
Lee Jeonghyoun (South Korea)
Mun Taeguk (South Korea)
Rummukainen Senja Elina (Finland)
Sato Haruma (Japan)
Swensen Jonathan Algot (Denmark)
Sendetskii Ivan (Russia)
Skanavi Ivan (Russia)
Ueno Michiaki (Japan)
Fung Zlatomir (USA)
Fernández Lara Rolando De La Guadalupe (Mexico)
Ferre Martínez Alfredo (Spain)
Haga Sandra Lied (Norway)
Chen Yibai (China)
Choi Ha Young (South Korea)
Yuya Mizunо (Japan)
Co-chaired by Olga Golodets, Deputy Prime Minister of Russia, and Valery Gergiev, General Director and Artistic Director of the Mariinsky Theatre, the Tchaikovsky Competition takes place in Moscow (violinists and pianists) and St Petersburg (cellists, singers, woodwinds and brass), from 17-29 June, with awards presented in Moscow.
Six winners will be chosen in four of the disciplines, with a further two in the winds and brass categories: first prize category winners will be awarded $30,000 each and of these one Grand Prix recipient will be awarded an additional $100,000.
Golodets and Gergiev have attracted a distinguished panel of judges, including many leading soloists. Judging the violin category are Martin Engstroem, Founder & Executive Director of the Verbier Festival, as well as Kristóf Baráti, Michael Haefliger, Mikhail Kopelman, Sergei Krylov, Boris Kuschnir, Elmar Oliveira, Alexei Shalashov, Dmitry Sitkovetsky, Akiko Suwanai and Viktor Tretiakov.
On the cello panel are Sir Clive Gillinson, Executive and Artistic Director of Carnegie Hall, alongside Mario Brunello, Myung-Wha Chung, Karine Georgian, Ralph Kirshbaum, Mischa Maisky, Truls Mørk, Daniel Müller-Schott, Sergei Roldugin, Tsuyoshi Tsutsumi, Jan Vogler, István Várdai and Jian Wang.

Held every four years, the competition is open to pianists, violinists, cellists, woodwind and brass players between 16 and 32 years of age, and singers between 19 and 32 years of age. Founded in 1958, it was the first international music competition to be held in the Soviet Union.
This year's entire edition is to be broadcast live via Medici TV at Tch16.medici.tv. For full details visit the Tchaikovsky Competition website.