The violinist has been appointed Artistic Director for the festival's 20th anniversary season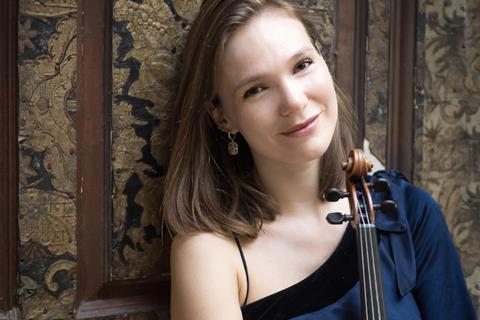 The Two Moors Festival has announced the appointment of Tamsin Waley-Cohen as Artistic Director, who will be creating a new programme to celebrate the Festival's 20th anniversary year (September 25th – October 4th 2020).
The British violin soloist, who has played with orchestras including the Halle Orchestra, London Philharmonic, Bournemouth Symphony Orchestra and Czech Philharmonic Orchestra, and is a founding member of the Albion String Quartet, is known to West Country audiences from her many Festival appearances since its early days. Having also programmed her own Honeymead Festival on Exmoor, she has an understanding of the Two Moors Festival - and the area it serves.
Over the past two decades, the Two Moors Festival has given audiences in Exmoor and Dartmoor the opportunity to experience high-level music making, nurturing young artists and performers and encouraging local communities to join in.
Waley-Cohen has said, 'I am absolutely thrilled to be working with the Two Moors, a festival that I have had the pleasure of playing in since its very inception and whose home is some of the most beautiful and wildest landscape in England. As it reaches the great milestone of its 20th birthday, I look forward to bringing my artistic vision to the Two Moors, and taking it forward into the future.'
Waley-Cohen takes over the role from founding Artistic Director, Penny Adie MBE who, with her late husband John, established the Two Moors Festival in the face of the foot and mouth outbreaks of 2001.
Adie said, 'The Two Moors Festival has always been a unique organisation and I couldn't be more thrilled Tamsin is going to take on my role. She has all it takes to propel the organisation on to the next phase of its journey, towards even wider acclaim and recognition. Her artistry, expertise, knowledge, imagination and determination are there in spadesful and I know she will be wholly committed to the task that lies ahead. I wish her all my love and good luck in the months ahead.'
Two Moors Festival Chairman, Richard Fletcher said 'Tamsin is the ideal choice for our new Artistic Director and she is already bubbling over with new ideas. Everyone has welcomed her appointment with great warmth and enthusiasm. Coming from the South West herself she fully understands our values and ambitions as a unique music festival serving a large, mainly rural geographical area. She knows the area intimately, which is a huge advantage. Exciting times lie ahead!'