Running from 12 to 18 February 2022, the new short virtual sessions will focus on the physicality and psychology of string playing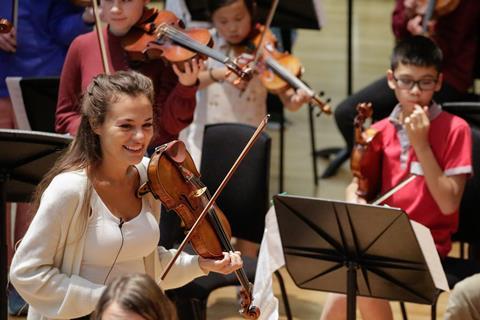 The Benedetti Foundation's Virtual Sessions return for the first time in 2022 with Building Foundations: Exploring the Physicality and Psychology of Playing.
From 12 to 18 February, the sessions will help participants to address their physical and psychological foundations and are open to players all ages and stages.
The sessions will feature stars of the string-playing world. Violinists Alina Ibragimova, Elena Urioste and Foundation founder and director Nicola Benedetti; violists Richard O'Neill and Juan-Miguel Hernandez and cellists Sheku Kanneh-Mason, Leonard Elschenbroich and Laura van der Heijden will feature across the live weekend from 12 to 13 February. They will join the Foundation's team of tutors and guest artists to ignite curiosity and understanding of participants playing through exploring physical and psychological challenges.
The Sessions will include:
Live String Sessions - Saturday 12 February
Live Wellbeing for Musicians Sessions - Sunday 13 February
Live Panel Discussion hosted by Nicola Benedetti - Sunday 13 February
Daily Challenges Open to All - from Monday 14 February
Nicola Benedetti commented, 'We strongly believe in addressing our foundations, within which we advocate for individuality and creativity. There is no one way to play, one way to make music, one interpretation, or one methodology or pedagogy. We hope these sessions will deepen this dialogue, and we will all learn something from the experience.'
There is no set fee to take part. Instead, participants are encouraged to donate what they can with a suggested donation of £10-15, but no one will be prevented from attending due to financial circumstances.
The Sessions are open to everyone, any level, any age and from anywhere in the world, with sessions available to watch on catch up for those in different time zones and anyone unable to join live. More information, including how to sign up, can be found here.