Indoor performances restart next weekend and face-to-face teaching is back on the cards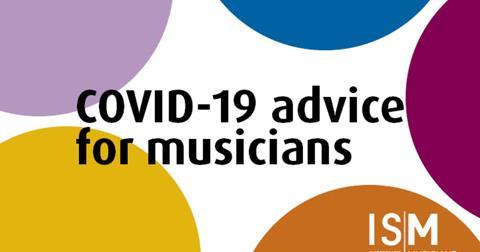 The UK's Incorporated Society of Musicians (ISM) has issued new guidance in line with the government's updated advice on measures to contain the spread of Covid-19.
As the country progresses to stage 4 of the government's five-stage 'roadmap', indoor performances with live audiences will be permitted again from 1 August. The ISM recommends that venues operate at reduced capacity and with clearly marked provisions for people to remain at least one metre apart, particularly in seating areas and spaces used for queuing.
Venues must also be cleaned thoroughly between concerts, with performances scheduled to allow sufficient time for this to be carried out. To facilitate contact tracing in the event of a subsequent Covid-19 positive test result, all audience members should be registered online beforehand.
Read: Socially distanced audiences to return for indoor performances from 1 August
Special attention is paid to singing and performing on brass and wind instruments. 'These are considered higher risk activities because of the potential for aerosol production,' the ISM guidance states, advising that only professional brass and wind performances should be considered appropriate for now.
Unlike these groups, however, string players face no particular restrictions. Social distancing and 'the guidelines on meeting people outside your household' must be observed at all times by non-professional performers.
Where these rules are impractical in professional contexts, however, 'using fixed teams which are positioned socially distanced from any other fixed team or anyone else' may be considered as an alternative.
The guidance also proposes that face-to-face instrumental lessons may now restart, as long as all necessary measures have been taken to reduce the risk of infection and ensure the teaching space is 'Covid-19 secure'.