The medals recognise extraordinary Black and Latinx classical musicians and come with a $50,000 career grant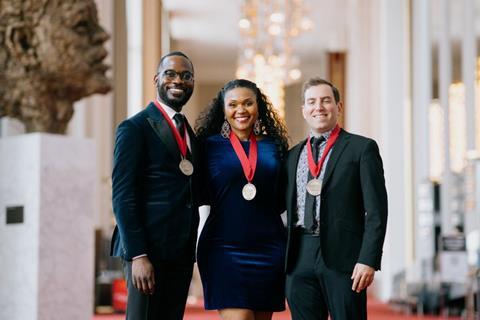 Read more news articles here
On 1 March 2023, cellist Tommy Mesa, soprano Aundi Marie Moore, and composer Joel Thompson were honoured by the Sphinx Organization for their accomplishments which distinguish them from their peers in the field.
The Sphinx Medal of Excellence is the highest honour bestowed by the Sphinx Organization, the social justice organisation dedicated to transforming lives through the power of diversity in the arts, and comes with a $50,000 career grant. The medal recognises extraordinary Black and Latinx classical musicians. Recipients are artists who, early in their career, demonstrate artistic excellence, outstanding work ethic, a spirit of determination, and an ongoing commitment to leadership and their communities.
'It's an incredible honour to receive a Medal of Excellence from the Sphinx Organization and to join a roster of phenomenal artists who have received this acknowledgement,' said cellist Tommy Mesa.
'I want my voice as a cellist to be a vehicle for anyone who needs me. There are so many composers who have so much to say and they require a voice. I want to be the person they can rely on to follow them into the deep end of their world. The human experience is so complex and what we can share with each other is limitless.'
Mesa is the recipient of the First Prize in the Sphinx Competition (inaugural Robert Frederick Smith Prize, 2016), and was a winner of the Astral Artists 2017 National Auditions. He has appeared as a soloist with major orchestras, including The Philadelphia Orchestra, The Los Angeles Philharmonic at the Hollywood Bowl, The Cleveland Orchestra, Indianapolis Symphony Orchestra, Madison Symphony Orchestra, and New Jersey Symphony Orchestra, among numerous others.
'The Sphinx Medal of Excellence award represents the hopes, dreams, and uttered prayers that have come to life on my journey as a classical artist,' said soprano Aundi Marie Moore. She made her Metropolitan Opera debut as Strawberry Woman in the Met's 2020 production of Gershwin's Porgy and Bess and is a member of the Domingo-Cafritz Young Artist Programme at the Washington National Opera.
'The grant attached to the Medal of Excellence will not only allow me to sustain my artistry, but will also help me to create more equitable pipelines for young Black music-makers and community-builders, and to invest in their dreams, just as Sphinx did for me not too long ago,' said composer Joel Thompson, whose first full orchestral work Seven Last Words of the Unarmed was commissioned by the Sphinx Organization six years ago for its 20th anniversary.
'I hope this award will be a symbol of a continued partnership with the Sphinx Organization to create music-centered spaces for collective healing, transformation, and liberation.'
The 2023 Sphinx Medals of Excellence are underwritten by the Fund II Foundation, William H. Carson, M.D., and John Evans and Steven Wozencraft.