He was director of the Casa Parramon stringed instrument workshop in Barcelona for over 40 years and founded the Spanish Master Luthiers Association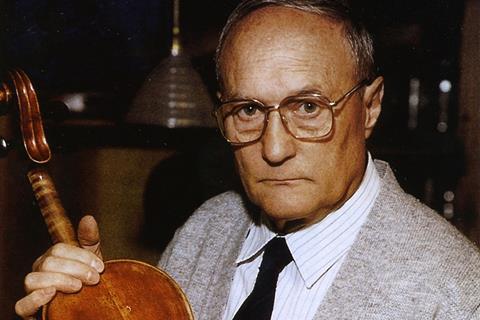 Violin maker and author Ramon Pinto died on 4 October at the age of 89. The former director of the Casa Parramon stringed instrument workshop in Barcelona, he was also the founder of the Asociación Española de Maestros Luthiers (AEML), and served as the president of the International Association of Violin and Bow Makers (EILA) from 2005 to 2007.
Born in 1929, Pinto received his training as a luthier under his father Angel and uncle Jacint, as well as with Ramon Parramon who established the workshop in 1897. He worked at Casa Parramon for his whole career, becoming its director in the 1960s and retiring in 2008. The shop's current director is his nephew, Jordi Pinto.
In 1988 Pinto established AEML, which originally had twelve members. He was its president until 2002 when the original association ceased to exist, splitting into the Asociación Española de Luthiers y Arqueteros Profesionales and GLAE (Gremio de Luthieres y Arqueros de España). In 1986 Pinto also became the first Spanish luthier to join EILA, and attended the association's meetings as the Spanish delegate for nine years.
A passionate researcher of the Spanish violin making tradition, he published the book Los Luthiers Españoles in 1987. Three years later his Manual del Luthier was released. It has since become recognised as the standard text on violin making in Spanish, and is currently in its third edition.
Pinto also served on the juries of several violin making competitions, including the Cremona Triennale in 1997 and the Concurso Nacional José Contreras in Gelves (Seville) in 1999.