The violinists, aged 14 to 18, are competing for a first prize of $20,000 in Cleveland, Ohio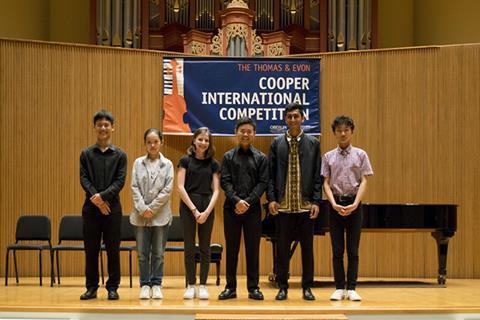 The Thomas & Evon Cooper International Competition last night named the six violin candidates chosen to progress to the recital finals, which take place today, 24 July. Three will proceed to the concerto final on Friday 26 July performing with the Cleveland Orchestra at Severance Hall.
The six remaining competitors are:
Jin Yucheng, 17, China
Yiyang Hou, 14, China
Isabella Brown, 16, USA
Eric Charles Chen, 18, USA
Enrique Rodrigues, 17, USA/Canada 26
Shihan Wang, 14, China
The Cooper International Competition, presented annually by the Oberlin Conservatory of Music and the Cleveland Orchestra, alternating between piano and violin, began life as the Oberlin International Festival in 1985 and, after a brief hiatus, returned in 2010 sponsored by Thomas and Evon Cooper.
It has recently doubled its prize pot to $40,000, of which $20,000 goes to the winner, $10,000 to second place and $5,000 to third, with $1,500 each for fourth to sixth positions, plus a $500 audience prize.
The jury, chaired by former Oberlin professor Gregory Fulkerson, comprises: Sibbi Bernhardsson, Radu Blidar, Yi Huang, Marilyn McDonald, Naoko Tanaka and Almita Vamos.
Previous winners of the competition include Johan Dalene in 2017 and Sirena Huang in 2011.
The competition will be streamed live here