The Grand Prix of $8000 USD is awarded by two players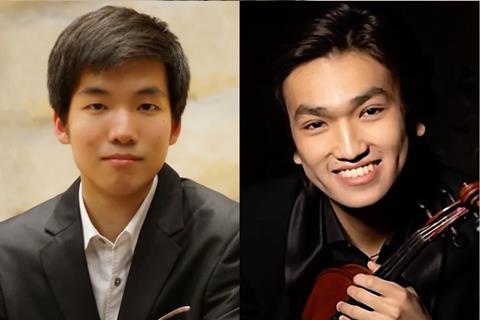 The inaugural Vietnam International Violin Competition, held in Hanoi, Vietnam, has awarded its Grand Prix to two players: Gang Hyeon Park from South Korea and Ruslan Turuntayev from Kazakhstan. They receive $8000 USD.
Park, who is studying with Kyung Sun Lee at the Seoul National University, is a former prize winner at the KBS and Joong-ang Music Competitions.
Currently studying with Irina Bochkova at the Moscow Conservatory, Turuntayev is a former prize winner at the International Tchaikovsky Competition for Young Musicians and the 'Beethoven Days in Moscow' Competition.
1st prize of $5000 USD and 2nd prize of $3000 USD went to Zhenyi Jiang from China and Hyeon Hong from South Korea.
3rd prize of $2000 USD was awarded jointly to Hoàng Hồ Khánh Vân from Vietnam and Petr Fedotov from Russia.
The 2019 jury comprised: Cong Duy Bui (President), Viktor Tretyakov (Chair), Stephanie Chase, Vilmos Szabadi, Kyung Sun Lee, Chen Xi, Cong Duy Bui, Chuong Vu, Lorenz Gamma and Gregory Lee.