Following the opening of the competition last Saturday, eight semi-finalists will continue onto the next round on 10 November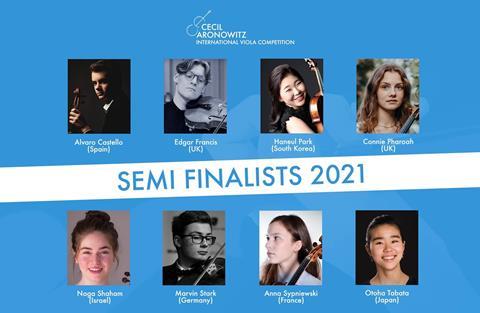 Eight semi-finalists have been selected for the Cecil Aronowitz International Viola Competition. They are:
Álvaro Castelló (Spain)
Edgar Francis (UK)
Haneul Park (South Korea)
Connie Pharoah (UK)
Noga Shaham (Israel)
Marvin Stark (Germany)
Anna Sypniewski (France)
Otoha Tabata (Japan)
The semi-finalists will perform a solo caprice/etude and the Brahms Songs for Voice, Viola and Piano. The semi-final will be livestreamed on the Cecil Aronowitz Facebook page live at 3.15pm on 10 November. The finalists will be announced in the evening and they will have the chance to perform in the final on 12 November for £5000, a record deal with Champs Hill records, a fine viola bow courtesy of Bishop Instruments & Bows; and a KorkferRest, strings and rosin courtesy of Pirastro.
Read: 'I have never entered a competition hoping to win' - Emma Wernig
Read: 'The objective was Bach, not Biondi'