Five string quartets and five piano trios advance to next round after five days of heats at the quadrennial event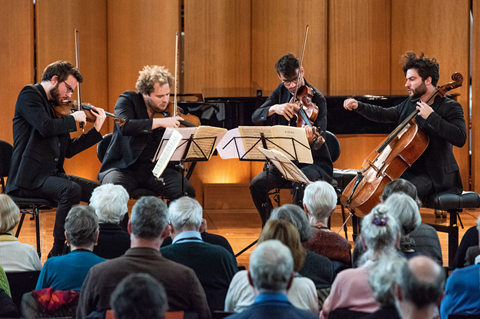 The Melbourne International Chamber Music Competition, which takes place every four years, has returned for a 2018 edition, inviting eight string quartets and eight piano trios to the state capital of Victoria, Australia.
The first round saw each group performing twice across five days, covering 19th- and 20th-century repertoire, as well as one two specially commissioned works by Australian composers Holly Harrison and Paul Stanhope.
The jury, chaired by British cellist and former Belcea Quartet member Alasdair Tait, has now chosen five quartets and five trios to advance to the semi-final stage.
The quartets are:
Callisto Quartet
Eliot Quartett
Gildas Quartet
Goldmund Quartett
Idomeneo Quartet
The piano trios are:
Amatis Piano Trio
Clarendon Trio
Mosa Trio
Trio Gaon
Trio Marvin
The semi-finals will take place on 6 July at the Australian National Academy of Music and the grand final on Sunday 8 July at the Melbourne Recital Centre. Both will be broadcast live on ABC Classic FM with the final also live video streamed.