A portion of the money from an anonymous donor will be earmarked to purchase a violin for the orchestra's concertmaster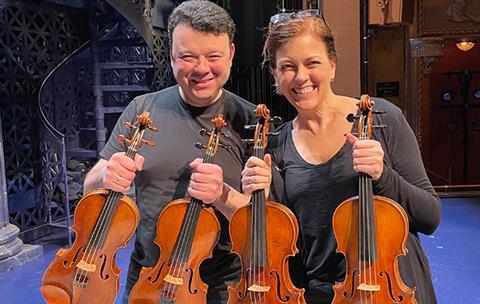 Read more news articles here
The ProMusica Chamber Orchestra has received an anonymous $1 million donation, the largest gift in the 44-year history of the Ohio based ensemble.
Part of the gift will be put towards the purchase of a violin for the orchestra's concertmaster, Katherine McLin. For the last 20 years, McLin has been playing a 1734 violin by Santo Serafin on loan from a foundation, however the term on the violin will expire in December 2023.
During a Zoom conversation with orchestra supporters in spring 2021, McLin mentioned that she would soon be losing her instrument. 'Coming up on four years ago, I got a five-year renewal, but then was told that the violin, at the end of the five years, would be donated to an institution,' McLin told the Columbus Dispatch. Following this, one of the orchestra's supporters expressed a wish to donate $1 million, with a large portion of the money put towards purchase of a violin to be used by McLin, and retained by the orchestra.
McLin is currently undergoing a search for the right instrument, in consultation with the orchestra's music director David Danzmayr and ProMusica's creative partner and principal guest artist, violinist Vadim Gluzman.
'I have tested about half a dozen violins,' McLin said. 'So far, there have been some really beautiful violins, but just not quite the right one yet.
'I am humbled to be part of this incredible journey to help find the best instrument, to learn about it's provenance and to bring that history back to Columbus,' said McLin. 'It will be an honour to both play this instrument and play a part in this once-in-a-lifetime opportunity to find a violin that will be a valuable part of ProMusica's life and history.'
ProMusica's CEO Janet Chen expressed that she was, 'overwhelmed with emotion and gratitude for this generosity that was totally unsolicited,'
'Emerging from the challenges of the past two years, this profoundly meaningful gift enables us to continue our momentum in pursuing our artistic aspirations – while also securing a rare instrument that will be available to Katie and for generations to come,' said Chen. 'We are eternally grateful to our anonymous donor for their extraordinary generosity.'
The gift will also help establish the ProMusica Artistry Fund, to support the visions, initiatives, and aspirational projects and needs that will continue to elevate the orchestra on a local, national, and global level.