The German quartet wins a recording deal, £1,000 cash prize, plus future career development opportunities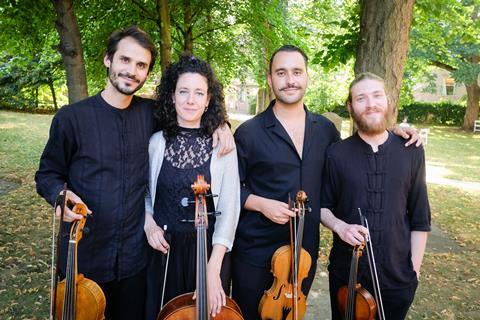 Run by the National Centre for Early Music (NCEM), the winners of the 2022 edition of the biennial York Early Music International Artists Competition were annouced on 16 July.
The Protean Quartet, comprising violinists Javier Aguilar and Edi Kotler, violist Ricardo Gil and cellist Clara Rada, came out on top in the final round, beating six other ensembles to win first prize.
The quartet receives a recording contract with Linn Records, £1,000 cash prize, plus opportunities to work with BBC Radio 3 and the NCEM.
'We are so proud to receive this wonderful prize which will widen the opportunity for us to share our music far and wide. We were competing against some amazingly talented musicians and we are privileged to receive this great honour,' commented the quartet.
Since its formation in 2018, the Protean Quartet has made appearances at Oude Muziek Festival in Utrecht 2019 and Festival de Saintes 2021. The quartet won first prize at the Biagio-Marini International Competition in 2020.
The EEEmerging+ prize, Friends of the the York Early Music Festival prize and the Cambridge Music prize were awarded to the ensemble ApotropaïK from France, which will receive career development from the NCEM. The Italian ensemble UnderStories won the prize for most promising young artists, worth £1,000.
The final round saw seven ensembles perform a recital programme to the jury panel at NCEM. During the two days before the competition, each ensemble presented an informal recital under the guidance of artistic advisers to York Early Music Festival John Bryan and Steven Devine, in order to give finalists the opportunity to adapt to the performance space and get to know the audience before the competition.
The finalists were ApotropaïK (France), Ensemble Augelletti (UK), Harmos Winds (Netherlands), Liturina (UK), Protean Quartet (Germany), Palisander (UK) and UnderStories (Italy).
The panel comprised Edward Blakeman (BBC Radio 3); Albert Edelman (President, Réseau Européen de Musique Ancienne 2019 - 2022); producer and recording engineer Philip Hobbs (Linn Records); violinist Catherine Mackintosh; and harpsichordist, professor Barbara Willi.
The competition was the finale to the 2022 York Early Music Festival, which was held from 8 to 16 July.