Danish cellist Jonathan Swensen has won 1st prize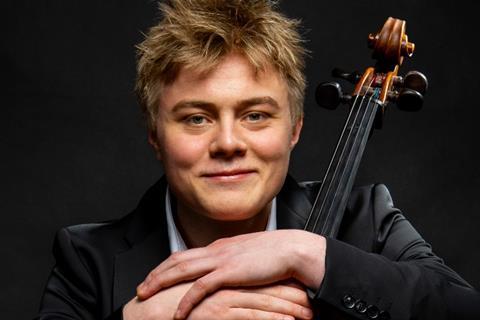 Jonathan Swensen has won 1st prize at the 7th Windsor International String Competition. The 22-year-old Danish cellist receives £5000, a fine contemporary cello bow, a CD recording on the Champs Hill Records label and a number of prestigious international performance opportunities.
The 25-year-old Turkish cellist, Jamal Aliyev, was awarded 2nd prize and this year's audience prize, while 3rd prize went to 24-year-old violinist, Mathilde Milwidsky, from England.
A graduate of the Royal Danish Academy of Music, where he studied with Toke Møldruphas, Swensen won 1st prize at the 2018 Khachaturian International Cello Competition and the 2018 Young Concert Artists International Auditions, in New York. He is currently pursuing a Master's Degree with Professor Torleif Thedèen at the Norwegian Academy of Music in Oslo.
Launched in 2008 in honour of Yehudi Menuhin, the biennial Windsor-based competition is open to international violinists, violists and cellists aged 16-26, with previous 1st prize winners including the Korean violinist Jiyoon Lee and the American violinist Nathan Meltzer. The 2019 jury comprised Pierre Amoyal, Wolfram Christ, David Strange, Martin Denny, Alexander van Ingen and Hellen Sprott.