Australian Rachel Siu and South Korean Hayoung Lee share the senior category top prize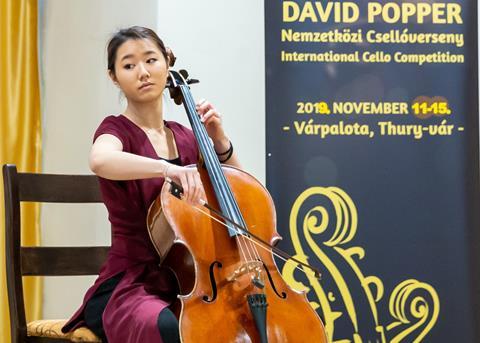 Rachel Siu (above) shared first prize with Hayoung Lee (below) at the senior category finals
Cellist Rachel Siu from Sydney, Australia, and South Korea's Hayoung Lee are the joint-first prize winners of the senior category at the 8th David Popper International Cello Competition in Várpalota, Hungary, which ran 11-15 November.
Siu is studying for her masters degree with Joel Krosnick at The Juilliard School, where she is a Kovner Fellow. Earlier this year she took first prize at the 2019 Getting to Carnegie International Competition, and she was a prizewinner at the 9th Carlos Prieto International Cello Competition in Morelia, Mexico. In 2009, at the age of 11, she became the youngest winner in the history of the National Youth Concerto Competition in Australia. Siu is a member of LGT Young Soloists.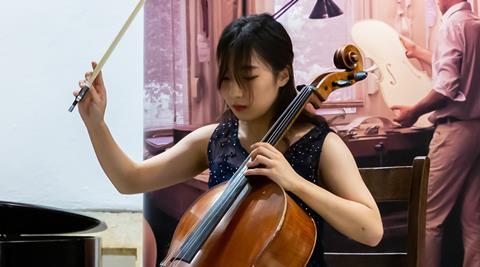 Hayoung Lee performing at the gala concert after the competition
Cellist Hayoung Lee graduated from Seoul Arts High School and Korea National Institute of the Gifted in Arts, and is currently pursuing her undergraduate degree at Korean National University of Art, studying with Kangho Lee and Tsuyoshi Tsutsumi. A prizewinner at several contests in South Korea, including first prize at the Joong-Ang Daily Music Competition, Shinhan Award, and Ehwa & Kyunghyanng Competition, Lee made her recital debut as a winner of the Kumho-Asiana Airline Cultural Foundation Young Artist Audition. She has appeared with orchestras in Korea such as the Bucheon Philharmonic and the TIMF (Tongyoung International Music Festival) Ensemble.
Csaba Onczay, president of the jury, said: 'The very high number of participants has been complimented by the highest quality. We could hear artistic performances by the youngest cellists all the way to almost complete artists.'
The competition is named after the Austrian cellist David Popper, born in Prague in 1843, who became lead cellist of the Court Opera House in Vienna, soloist and conductor of the orchestra of the Academy of Music, and professor of cello and string quartet at the Budapest Academy of Music. He was a founder member of the Hubay Quartet. As a composer he wrote mainly for his own instrument, several of which are included in the programme lists for the competition.
The David Popper International Cello Competition runs every two years and has five age-categories.