Taken from our now-discontinued sister magazine, Double Bassist, David Heyes assesses the life of Giovanni Bottesini in this retrospective from the summer 1996 issue, which coincided with the bass virtuoso's 175 birthday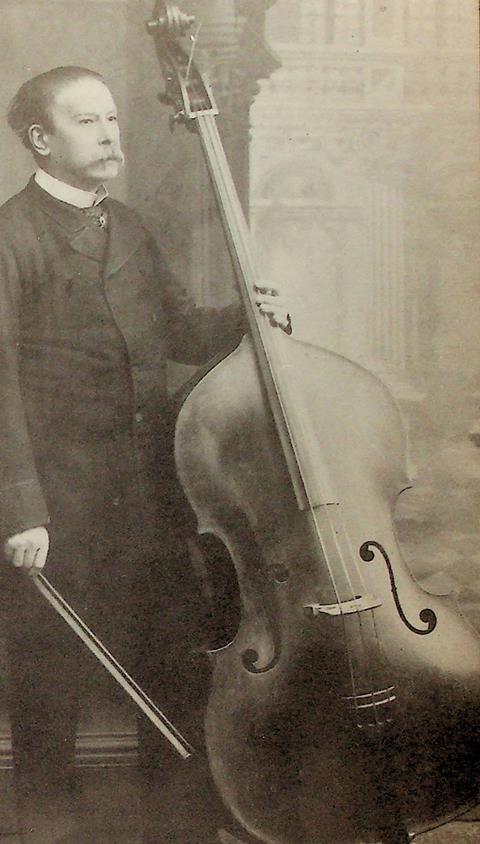 'On his favourite instrument, the double bass, he was absolutely phenomenal. The beauty of the tone and sound be elicited from that unwieldy instrument. His marvellous facility, not to say agility, in executing the most difficult passages - the grace, elegance, and delicacy of his touch and method, gave proof of the most consummate art and unrivalled talent. He often competed victoriously even with celebrated violinists — as for instance in a duet for violin and double bass, of his own composition, which he frequently played with Sivori, and in which his part of the performance invariably electrified the audience.
'Nothing could be more extraordinary, from a musical point of view, than this match between two instruments so entirely different in tone, size and character. In precision, dash, accuracy, and in the softness of touch and phrasing, Bottesini had no equal on the contra-basso.' (1)
Thus ran The Musical Times obituary (1) in August 1889 of Giovanni Bottesini — the greatest double bass virtuoso of the 19th century and a musician revered the world over as 'the Paganini of the double bass'. In a career spanning 50 years, Bottesini was an international star as soloist, composer and conductor. His performances were remembered for their sheer virtuosity, beauty of tone and supreme musicianship.
Giovanni Bottesini was born into a musical family on 22 December 1821 in Crema, Lombardy. His father Pietro, a clarinettist and composer, encouraged his musical talent and as a boy he sang in local choirs, played timpani at the Teatro Communale in Crema and studied violin with Carlo Cogliati (a priest and violinist in the orchestra of Crema Cathedral).
In 1835. Pietro heard of two scholarships at the Milan Conservatoire for bassoon and double bass and Giovanni decided to audition for the double bass. Within a few weeks he had learned enough to satisfy the audition panel and reputed to have made the oft-repeated remark that that once he knew where to place his fingers, he would not play out of tune again.
Bottesini - a brief biography
1821 Giovanni Bottesini is born in Crema, Lombardy
1835 Wins double bass scholarship to Milan Conservatoire after just a few weeks of lessons
1839 Leaves Conservatoire early after winning solo prize of 300 francs. Rescues and buys Testore double bass which he plays all his life
1840 Solo debut in Crema
1846 Tours New World with Arditi
1849 First London concert causes sensation. Returns every season
1889 Dies in July, six months after being appointed (at Verdi's recommendation) Director of the Parma-Conservatoire and loss than 10 days after giving his final recital in Parma
He studied double bass with Luigi Rossi. to whom he dedicated his Tre grandi duetti per contrabasso. His composition, harmony and counterpoint lessons were taught by P Ray, Nicola Vaccai and Francesco Basili respectively. Bottesini's friends at the Conservatoire included the violinist and composer Luigi Arditi. Another was the celebrated cellist Alfredo Piatti. It was with Piatti that Bottesini performed at Emperor Ferdinand's coronation. and where their 'solo playing was enthusiastically applauded all the Austrian court festivities'. (2)
Bottesini's progress was so rapid that he left the Conservatoire in 1839- three years early but with the permission of the governors and with a prize for solo playing of 300 francs in his pocket. With some more money borrowed from a relative, he bought the double bass that he played throughout his life. The instrument, made in 1716 by Carlo Antonio Testore in Milan, had belonged to the Milanese bassist Fiando.
After Fiando's death it had been thrown into the store room of a marionette theatre: 'The player Arpesani, who was probably the only one to remember its existence and value, advised Bottesini to buy it. When they arrived at the theatre they had quite a search before finding it under a heap of old clothes and rubbish. It had no strings and was covered with dust and dirt. Bottesini soon cleaned it and fitted it up and then started to practise upon it straight away. He was so impressed by its quality that he forgot all about his dinner and never stopped playing until he became so tired that he dropped the bow'. (3)
Bottesini made his successful solo debut in 1840 in Crema, and toured for a number of years. In 1846 he and Arditi planned to visit England. Arditi described the event in his autobiography: '..at a farewell dinner given lo us by the Duke Antonio Litta, in Milan, in honour of our proposed deparlure lo England, we met Badiali, Don Francesco Marti's agent, and brother of the famous baritone, Cesare Bardiali 'who made us so excellent an offer to accompany him throughout a concert and opera tour, beginning with a visit to Havana and continuing to other parts of the New World, that we relinquished our former plans, and over a jovial glass of sparkling wine, we promptly closed an engagement to try our luck under Badiali's auspices…We started on 2 September, 1846 from Genoa with the orchestra, of which I was conductor, and chorus, and my recollection of these two months spent in tossing about on the ocean are anything but pleasant.
'Fortunately, I was a good sailor, or the discomfort of poor and insufficient accommodation, wretchedly bad food, and rough weather would have been augmented by the sufferings Bottesini endured. How ill he was, poor fellow! His face grew thin and his body emaciated, but the eyes appeared to become larger and more melancholy as the merciless sea made our small bark dance incessantly to its strident music.'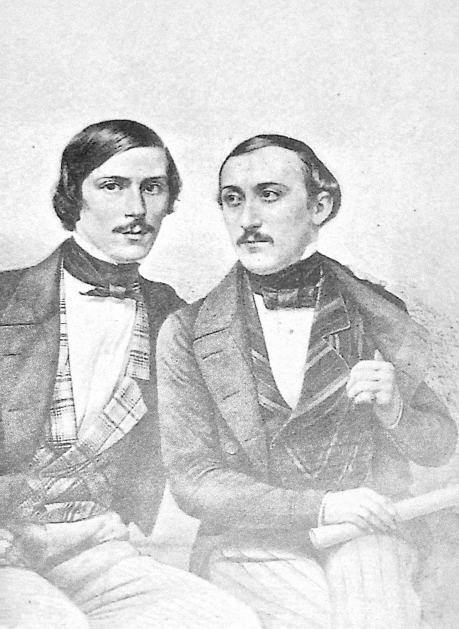 A year later, Bottesini composed his first opera — Cristoforo Colombo — which premiered al the Teatro Tacon in Havana, conducted by Arditi. In 1848 Bottesini, Arditi and the pianist Desvernine visited the principal towns in the United States, with one or more concerts in each place. It was in 1849 that Bottesini made his first visit to London, performing at John Ella's Musical Union at the Exeter Hall on 26 June. He played several solos and the cello part in a quintet by George Onslow. Contemporary writings describe with enthusiasm the virtuosity of his performance of The Carnival of Venice:
'How he bewildered us by playing all sorts of melodies in flute-like harmonics, as though he had a hundred nightingales caged in his double-bass! Where he got his harmonic sequences from; how he hit the exact place with his long, sensitive, ivory-looking fingers; how he swarmed up and down the finger-board, holding it round the neck at times with the grip of a giant, then, after eliciting a grumble of musical thunder, darting up to the top and down again, with an expression on his face that never seemed to alter, and his face always calmly and rather grimly surveying the audience; how his bow moved with the rapidity of lightning… I have heard him play it and some three or four other solos since at intervals of years. His stock seemed to me limited; but when you can make your fortune with half a dozen, or even a couple of solos, why play more? (4)
'At one time he travelled with Lazarus, the matchless clarionet player; and I shall long remember the famous duet they invariably played, and which was always encored…I never wearied of bis consummate grace and finish, his fatal precision, his heavenly tone, his fine taste. One sometimes yearned for a touch of human imperfection, but he was like a dead shot; he never missed what he aimed at, and he never aimed at less than perfection.' (4)
At his London debut, 'he at once established himself as being one of the most wonderful virtuosos on the double bass that has ever been before the public. Bottesini since returned to London every season, playing at the Crystal Palace, the Philharmonic, and even the Monday Pops, where he was a decided draw.' (5)
Bottesini continued to tour as both soloist and conductor for the remainder of his life, and created a sensation at each performance, often playing his own Grand Duo Concertante for violin, double bass and orchestra with Sivori. Papini or Sainton, or one of his many virtuosic fantasies such as La Sonnambula, Lucia di Lammermoor, or The Carnival of Venice.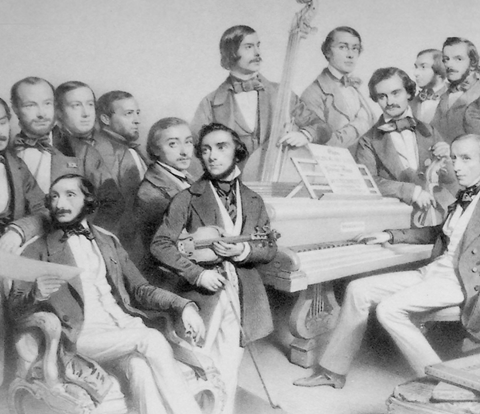 A review of 1865 is typical of the many wonderful concert reviews of Bottesini's career. The review also mentions the vocal qualities of Signora Fiorenlini, believed to be his long-time companion, and a trio for double bass, cornet and piano which seems not to have survived: '…Madame Fiorenlini and Mdlle Liebhart are both singers of considerable brilliance and culture…|the choral items] although sufficiently good…were thrown into the shade by the instruments in the hands of Signor Bottesini and Mr Levy.
'The attainments ol these two artists have placed them among the first players, past or present, ol their instruments, and lifted them out of the reach of criticism. Scarcely second to Mr Sims Reeve's singing of that of that most wonderful of songs, Adelaide, was the manner in which Signor Bottesini played it. making his great double bass all but syllable the words, and speak all the depth and intensity of the musics meaning. He gave it with thrilling effect…The trio, for contra-basso, cornet-a-piston, and piano, by Signor Bottesini , and played by that gentleman, Mr Levy and Mr Hatton, was the finest piece of the concert.' (6)
Bottesini's last visit to England was in 1887, when his oratorio The Garden of Olivet, to a libretto by Joseph Bennett, was first performed at the Norwich Festival. Some reviewers thought the music light and trivial, but the critic from The Musical Times found the recitatives equal to Mendelssohn, and a Manchester reviewer spoke well of the work.
Bottesini died in Parma on 7 July 1889 barely six months after his appointment as Director of the Parma Conservatoire. The Musical Times made this observation in its obituary: 'The Municipality paid him his last honours by officially solemnising his funeral al the public expense, and the ceremony was rendered still more impressive by the presence of the Prefect of the Province of Parma, of the members of Parliament of the district, and of the municipal representatives of Parma and other cities, who acted as pall bearers; while the procession was preceded and followed by the various local artistic institutions and associations, with their bands and banners'.
Verdi had recommended Bottesini for the post of Director of the Conservatoire, and the bassist was quickly welcomed into the musical life of the city. His last recital was in Parma at the end of June, and he had a strange feeling about his fate, as The Musical Times reported:
'On the last occasion, a few months ago, when he played at Parma for the benefit of an artistic society, he had a strange presentiment of his approaching end. The resin broke to pieces in his hands as he was rubbing the bow, whereupon he remarked with a sad smile, "There goes the resin; who knows? — soon I may have to go too". His own performance on that evening, though it carried away the audience as usual, did not satisfy him, and he complained to those near him that there was something wrong with his old friend: "It would not act. His presentiment was but too true; for on the very next day he was struck down by fever, from which he never recovered.' (4)
Bottesini was renowned for being kind-hearted and generous, fond of humour, and also had an inexhaustible store of anecdotes from a career of performing and travelling. The following story; often attributed to the vocal repertoire of Sir Thomas Beecham, actually appeared in The Musical Times on 1 August 1889 and was one of Bottesini's favourite stories:
'On one occasion, after a concert he had given at the Kursaal of Wiesbaden, an English lady, plainly dressed, approached him and said, "Oh, Signor Bottesini, I am charmed with your playing, and should be so glad if you would come some day soon and play at my house". Bottesini, thinking that the lady before him was one of the innumerable Anglaises to whose eccentric and extravagant displays of hero-worship he was so accustomed, simply smiled and bowed in silence. "Besides," continued the lady. "I have heard you play before in London. The artist smiled and bowed again. "Yes," persisted the lady. "I heard you play at my mother's."
"And who,". Bottesini now rejoined, "is your mother, madam, if I may ask?"
"The Queen of England," was the quiet and placid reply, whereupon it at last dawned on Bottesini that the lady before him was no other than the Crown Princess of Germany. then staying at Wiesbaden.'
Notes
1. The Musical Times, 1 August 1889 (p476-85)
2. My Reminiscences by Luigi Arditi (Skeffington & Son. London, 1896, p.xxi)
3. More About the Double Bass by Raymond Elgar
4. My Musical Life by HR Haweis (1846-60) (Norwood & London. p26)
5. The Strad. April 1892: Guido Papini and Bottesini (p233-4)
6. The Northern Whig, 1 February 1865
Listen: The Strad Podcast Episode #21: Leon Bosch on Bottesini
Read: A moving tale: Travelling with a double bass
Read: The Venetian double bass: Venetian splendour
Read: Double bass beginners should play in all left-hand positions
Double Bassist magazine: 'Bottesini had no equal on the contrabasso'
1

Currently reading

Double Bassist magazine: 'Bottesini had no equal on the contrabasso'

2

3