The crossover violinist and presenter is in New York to collect the award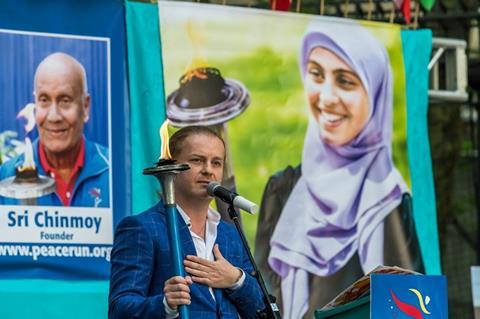 The Czech violinist Pavel Šporcl is in New York to receive a special prize that recognises those who have made an outstanding contribution to their cities, communities and countries. The 'Torch-Bearer Award', which is often given to sports personalities, honours the work Šporcl has done to bring society together through music. It was presented outside the United Nations building last weekend in front of fellow luminaries and UN national delegates.
In addition to being an acclaimed musician - he records for Universal and has performed with orchestras ranging from the Czech Philharmonic to the Royal Liverpool Philharmonic - Šporcl, 45, devotes a great deal of time to helping to develop the classical music scene in the Czech republic, and to nurturing young musicians and music-lovers. He is the patron of the Kocian Violin Competition for young people, and recently led a sold-out benefit in Prague, featuring some of the country's most admired violinists. He likes to go beyond the classical music scene and cooperates with many non-classical music artists, not least in projects such as Gipsy Way (2008) and Gipsy Fire (2014) with a gypsy cimbalom band. He also presents documentaries about music on Czech Television, including a series in which he introduces music for young children.
Receiving his award alongside fellow winner, Broadway and film actor Richard Kind, Šporcl said 'I am deeply proud to receive the Sri Chimnoy Torch-Bearer Award. It means a great deal to me and gives me strength to continue my work, not only as an artist, but as one of a community of artists around the world who believe that art can change lives — that this is our gift and our responsibility.'
Previous winners of the award include Olympian athlete Carl Lewis, European Council President Herman van Rompuy, tennis star Billie Jean King and Archbishop Desmond Tutu.