Canadian violinist and disability advocate Adrian Anantawan gave a keynote address to show how teachers can enable all students to learn music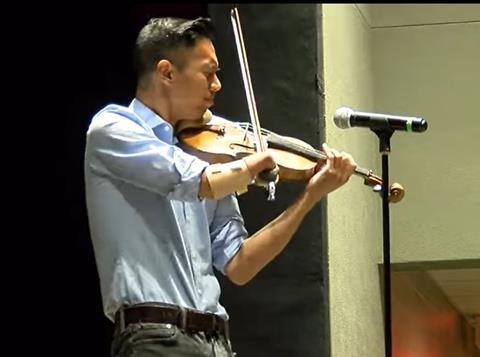 A violinist with one hand has shared his experiences of learning music, hoping to inspire music teachers to find creative methods of teaching music to disabled children.
'In music, the most important appendage you have are not your hands, but your ears,' said violinist Adrian Anantawan, recalling advice from a childhood music teacher in an interview with ABC 7 Sarasota.
The violinist was recently invited as keynote speaker for Sarasota County Schools art teachers as part of their training ahead of the new school year. In his address, he shared examples of technology that enabled disabled students to learn music, including the Virtual Music Instrument (VMI), a system that detects slight motions which allows paralysed students to make music by waving their arms and head.
Another example included a young girl with no arms who is able to learn the cello with a bow attached to her foot.
'Whether a child can play one note or a thousand notes, it really doesn't matter so long as whatever they're contributing is all they can give,' said Anantawan.
From Ottawa, Canada, Anantawan was born without his right hand, yet has pursued a professional career as a violinist, performing at renowned venues and events such as the White House, the opening ceremonies of the Athens and Vancouver Olympic Games and at the United Nations. He studied at the Curtis Institute of Music with Ida Kavafian, Yale University with Peter Oundjian, and Harvard Graduate School of Education.
As a disability advocate, Anantawan is the creator of the Virtual Chamber Music Initiative at the Holland Bloorview Kids Rehab Centre (Toronto, Canada). Founder of the Music Inclusion Program (Boston, MA). Ambassador for the True Colors Symphony (Hong Kong) and the War Amps of Canada. His numerous awards include the Juno Award, Diamond Jubilee Medal from Her Majesty Queen Elizabeth II, Boston ONEin3 Impact Award, Terry Fox Hall of Fame, VSA International Soloist Winner and Anne-Sophie Mutter Foundation.
Watch Anantawan perform as part of his keynote address, reported by ABC7 Sarasota: