Concertmaster of Chicago's Music of the Baroque for over 30 years, Golub had recently lent his Guarneri to the Museo del Violino in Cremona. He was 85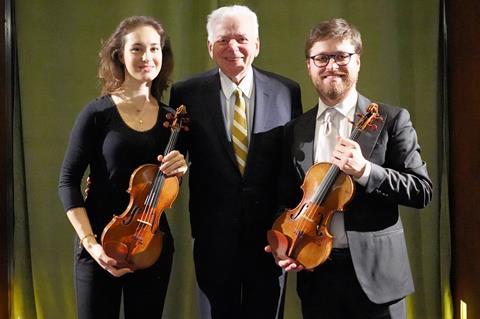 Elliott Golub, one of Chicago's most distinguished classical musicians, died on 14 July following a heart attack at his home in Winnetka, Illinois.
The largest part of Golub's career was as concertmaster of the Chicago-based Music of the Baroque, which he joined as a founding member in 1972 and retired from in 2006.
His training was at the Cleveland Institute of Music, after which which he joined the US Army and served for a few years as concertmaster of the Seventh Army Symphony Orchestra, a post-war cultural diplomacy project based in Germany and touring around Europe.
He returned to the US and undertook postgraduate violin studies at the Chicago Musical College (part of Roosevelt University's Chicago College of Performing Arts), graduating in 1961. He went on to play for the Robert Shaw Chorale, Chicago Lyric Opera, Santa Fe Opera, and a number of Chicago musical institutions, before joining Music for the Baroque.
From 1995, he began taking a small chamber group, Trio Chicago & Friends, on ambassadorial trips to countries including China, Cuba, Egypt, Ethiopia, Mali, Zambia, Uganda, Djibouti, Mongolia, Thailand, Vietnam, Cambodia, Laos, Jordan, Belize, Venezuela, Barbados, and Turkey. He received a number of awards late in his career, including the Distinguished Alumni Award from the Cleveland Institute of Music and the Otto Wirth Award for Lifetime Achievement from Roosevelt University.
He purchased the 1734 'Spagnoletti' Guarneri 'Del Gesù' in 1985 and had recently allowed it to be exhibited at the Royal Academy of Music and the Museo del Violino, Cremona, where he was present for its unveiling and special concert in February this year.
'To know Elliot was to know an artistic soul, a sharp mind, and a true gentleman,' violin maker Gregg Alf said. 'He loved music and his generosity is still felt by all of us here in Cremona, Italy – where an exhibition of his cherished violin had recently been inaugurated.'
With thanks to Cedille Records for biographical details