The oldest surviving member of the Berlin Philharmonic died, aged 100, in July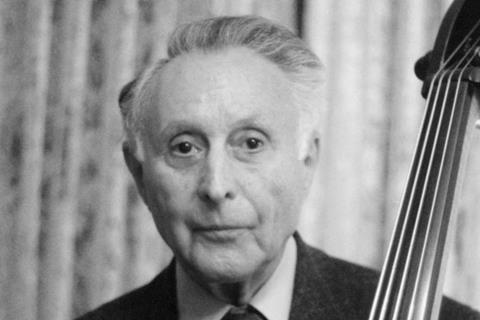 By Klaus Schruff
Erich Hartmann, who was the oldest surviving member of the Berlin Philharmonic at the time of his passing, died peacefully on 6 July 2020. He celebrated his 100thbirthday on 26 January 2020 in Berlin with family, friends and former colleagues, who performed parts of his double bass quartet in his honour amongst other music – and he enjoyed it.
'Erich Hartmann's death is a turning point,' says Knut Weber, cellist and member of the Berlin Philharmonic's orchestra board. 'With him, we lose the last Philharmonic musician of the Furtwängler era and an important contemporary witness of the war and post- war years. As a member of the double bass section of the Karajan period, he took part in shaping its unique sound. He also passed on his knowledge with great dedication as a teacher. We mourn the death of a great musician.'
The son of a Leipzig piano maker, Erich Hartmann studied composition with Hermann Grabner and double bass with the then famous teacher and double bassist Theodor Albin Findeisen at the conservatory in his home town. Hartmann was Findeisen's last student at the time of his early passing in 1936 and continued his studies with Max Schulz. His first professional experience was with the Gewandhausorchester in Leipzig.
Having served in the army, he was severely wounded and exempted from further service. Thus, in 1943, he came to successfully audition for the Berlin Philharmonic and became a member of the orchestra. He played under Wilhelm Furtwängler and through almost the entire Herbert von Karajan era.
Read: Berlin Philharmonic recruits first female first principal of the second violins
Read: Anne-Sophie Mutter on Herbert von Karajan and John Williams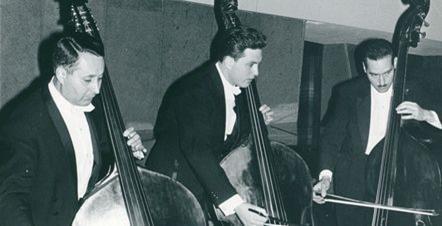 In 1967, he founded the Berlin Philharmonic Bass Quartet, whose members have included Klaus Stoll, Wolfgang Kohly, Manfred Dupak, Rudolf Watzel and Friedrich Witt over the years. In1973 he was awarded the Ring of Honour by the Berlin Philharmonic and received the Hans von Bülow Medal in 1985.
An accomplished and dedicated composer, he wrote, amongst other works, the Quartet for Double Basses (1967), Duo for Violoncello and Double Bass, premiered by Klaus Stoll and Jörg Baumann (1982), Octet for Double Basses (premiered in 1976), two trios for violin, cello and double bass and his adaptation of the Strauss waltz 'On the Beautiful Blue Danube' for eight basses, which was performed on the 100th anniversary of the Berlin Philharmonic in 1982. His Wikipedia page affords closer scrutiny of his list of compositions.
Hartmann retired from the Berlin Philharmonic in 1985 after more than 41 years of service, but continued to attend its concerts and had many friends amongst his former colleagues. He maintained a special bond with the orchestra throughout the rest of his life.