The 1659 Marcus Stainer violin was stolen from Loal Davis' car in 1986 and was found listed for sale at a Californian antique business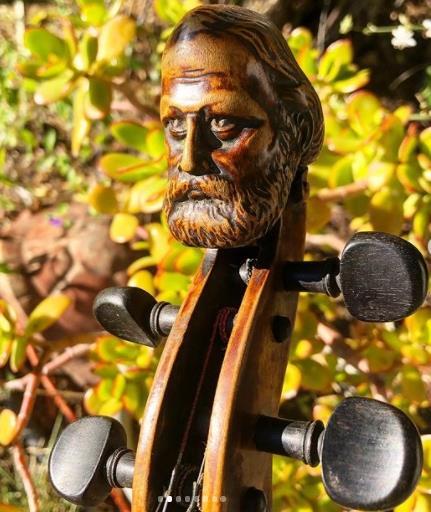 A rare 1659 Marcus Stainer violin has been reunited with its owner after 35 years.
The violin was an heirloom belonging to the Davis family. In 1986, violinist Loal Davis, his wife and six-year-old daughter Emily were in the process of moving and stopped overnight with relatives in Martinez, California. Unfortunately, the family car, containing many of the family's belongings, including the violin and several other instruments, was broken into during the night. Davis filed a police report and an insurance claim but believed that his instruments were gone forever.
35 years later, Davis' daughter Emily Davis-Gast, who was living in Los Angeles with her husband Gregory Gast, came across the distinct violin for sale from an antique dealer called Buy the Way Artiques. She recognised the unusual carving of a man's head in the scroll of the violin, as she had seen it in photos of her father in his youth. In an interview with Fox News, she said she sent the listing to her father, believing it was another instrument, only for Davis to reply, 'That is mine!'
'He could see all these little things in the sales photos, upgrades that he had made', stated Davis-Gast.
As the original police report and insurance payout documents had been lost over the years, the Davis family's only hope to recover the violin was to make contact with the seller. By the Way Artiques' owner Rachel Grimoldi had acquired the instrument at an estate sale. When approached by the Davis family and after learning of the violin's history and sentimental value, Grimoldi agreed to sell the instrument back to the family for a fraction of its full value, at only US$2500, to cover the costs she had spent on the instrument. 'I resonated with the family's story. We've had many invaluable and sentimental things stolen over the years' she stated.
Davis-Gast plans to bring the instrument back to her father, who is based in St Louis, saying 'Sometime in the new year we'll get a flight home - after making sure we can take it as a carry-on, because ain't no way I'm checking that thing!'
Marcus Stainer was an Austrian violin maker who lived c1633-93. He is often erroneously described as the brother of Jacob Stainer, one of the most important and influential figures in the Austrian and German violin making tradition. Marcus Stainer made only a few instruments, several of which may have been passed off as Jacob's work.