The renovation will now be completed in late 2022, almost two years earlier than previously scheduled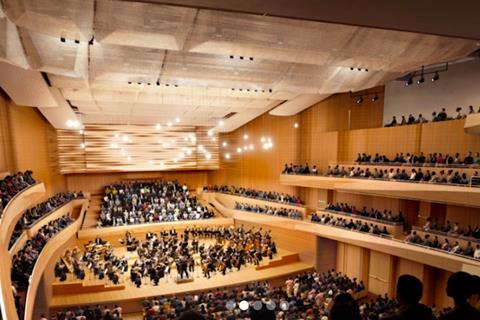 Lincoln Center and the New York Philharmonic have announced that the renovation of the David Geffen Hall, designed by Diamond Schmitt Architects and Tod Williams Billie Tsien Architects, is scheduled for completion in autumn 2022, almost two years earlier than previously announced.
With concerts cancelled since March 2020, an opportunity opened up to accelerate the long-delayed renovation of the Hall - a project expected to cost $550 million, of which $500 million has so far been raised.
The renovation aims to make the hall more aesthetically and acoustically appealing, with seating that will wrap around the stage, which will be pulled forward 25 feet to bring a greater sense of intimacy to the space. The walls will also be resurfaced to improve the hall's resonance, especially bass frequencies.
Read Pay cuts planned for New York Philharmonic musicians and Metropolitan Opera workers
Read New York Philharmonic launches outdoor performances
Deborah Borda, the Philharmonic's Linda and Mitch Hart President and CEO, said: 'Our accelerated renovation plan for David Geffen Hall allows us to make the most of COVID-19 closures to complete the renovation process faster and more efficiently, without stops and starts.
The Hall's immediate and long-term benefits to the community, Lincoln Center, our Orchestra, and the world of music are unparalleled. We look forward to returning to David Geffen Hall and welcoming everyone to our new, state-of-the-art home in Fall 2022 … a major signal that New York City is back.'
The New York Philharmonic will perform for the 2021–22 season, with full details to be announced in June.
Working around the continuous construction on the site, the Orchestra will perform in several New York City locations, which will be announced with the full schedule at that time.