British violinist Freya Goldmark is delighted to be taking up her new role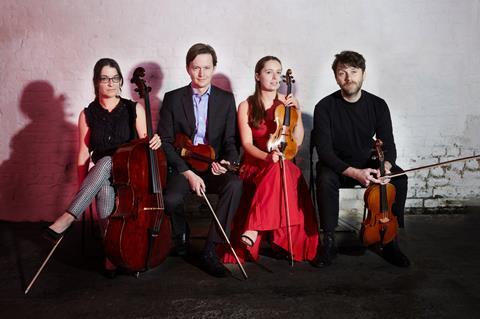 Read more news articles here
The Ligeti Quartet has named Freya Goldmark as its new first violinist. Goldmark has been working with the quartet over the past year and replaces Mandhira de Saram, who has made the decision to focus on other creative parts of her career.
'I am delighted to be joining the wonderful Ligeti Quartet,' said Goldmark. 'It has already been such fun delving into a world of incredible repertoire and I am hugely looking forward to many years of cutting-edge projects and thrilling performances together."
'We were blown out of the water by her refined playing, ideas, and dedication to chamber music,' said cellist Valerie Welbanks. 'She is a natural fit in the ensemble and we look forward to our musical adventures together.'
The quartet will continue its relationship with de Saram, including premiering a new composition by her next year.
Violinist Patrick Dawkins added: 'We are extremely grateful to Mandhira for what we built together as a quartet, since our time as recent graduates working our way through challenging techniques, repertoire, and learning how to make music together.'
'Leaving the quartet was a difficult decision.' said de Saram. 'It's never a good time to leave. In this new chapter of my life I embark on new creative ventures including new collaborations, improvisation and composition. I'm looking forward to spending more time with my family and travelling the world when possible!'
Goldmark enjoys a busy and varied career as a soloist, chamber musician and festival director.
After starting violin lessons aged four, by her mid teens Freya had performed across the UK, Europe and Asia and made her concerto debut aged 13 at the Rachmaninov Institute in Russia. At aged 19, Goldmark founded Stamford International Music Festival, a chamber music festival which takes place each year in her home town.
2023 is set to be an exciting year for the Ligeti Quartet, it being the 100th anniversary of György Ligeti's birth. The quartet's centenary celebrations include 14 new commissions supported by Britten Pears Arts, BBC Radio 3, and Montreal's Bourgie Hall.
The Ligeti Quartet first concert in their new formation will take place on the BBC Radio 3 New Music Show, which will be performed and recorded live in Sunderland on 20 December 2022 and broadcast on 7 January 2023.