His Royal Highness The Prince of Wales, who is also president of the Royal College of Music, formally opened the newly transformed building in an official ceremony and visit on 2 December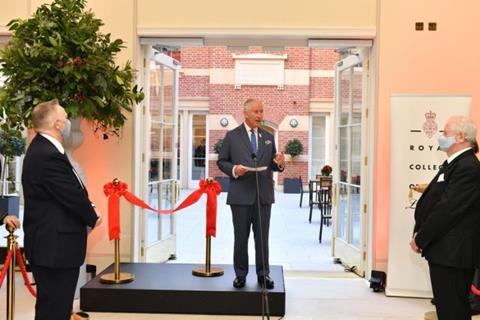 The Royal College of Music's new facilities have been opened by His Royal Highness The Prince of Wales, in an official ceremony held on Thursday 2 December.
The facilities, created by the More Music: Reimagining the Royal College of Music development was funded by a £40 million philanthropic campaign, of which HRH The Prince of Wales was patron. He was given a tour of some of the new spaces designed by architect John Simpson as well as a visit to the new Royal College of Music Museum designed by ZMMA and listened to performances by some of the RCM's current students.
Read: Photo gallery: Royal College of Music opens new museum
Professor Colin Lawson, Director of the Royal College of Music commented: 'We are delighted that close Royal connections have continued to illuminate our work ever since our foundation in 1883 by the then Prince of Wales, the future King Edward VII. We were delighted that our president played such an active role in the initial approval of architect John Simpson's visionary plans, and we fully anticipate that these additional resources will further enhance our reputation as a natural first choice for students from around the globe.'
The landmark redevelopment made possible through the More Music campaign has almost doubled the footprint of the iconic South Kensington site, enhancing opportunities for students and visitors alike. Additions to the campus include the creation of two new performance spaces, a brand-new home for the Royal College of Music Museum, practice rooms for students and a new courtyard and café for students, staff and visitors to enjoy.
The More Music development has also provided for an expanded scholarship programme to support talented students, regardless of means; improved research and digital capabilities; provided innovative academic initiatives; and offers more opportunities to widen access to classical music through a community engagement programme.
Read: Photo gallery: The decorated instruments of 'Violino d'Autore'
Read: College auditions advice: When you're ready
Read: 10 points to help you handle performance anxiety