To celebrate St. David's Day we're sharing five pieces for strings by Welsh composers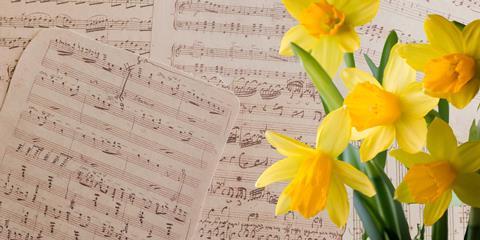 Discover more like this in The Strad Playing Hub
Dydd Gŵyl Dewi Hapus to all our Welsh readers around the world!
To celebrate, we've collected five string pieces from Welsh composers new and old.
1. Grace Williams: Violin Sonata
Born in Barry, Glamorgan in 1906, Grace Williams learnt piano and violin from a young age before turning her hand to composition. In 1926, Williams studied at the Royal College of Music under Gordon Jacobs and Ralph Vaughan Williams. In 1949 she became the first British woman to compose the score for a feature film, Blue Scar.
As well as her Violin Sonata, Williams composed a concerto for violin as well as works for string orchestra, chamber works for piano quintet and string quartet, trio, and one rhapsody for cello. In 2019, Madeleine Mitchell and the London Chamber Ensemble released a collection of Williams's works under the Naxos label.
A full list of Grace Williams work can be found here
2. Morfydd Llwyn Owen: Piano Trio
Welsh composer, pianist and mezzo-soprano, Morfydd Llyyn Owen was born in 1891 in Treforest. Although she only lived until she was 26, she composed roughly 250 scores, including pieces for chamber ensembles, piano and choirs. Owen studied composition at the Royal Academy of Music in 1912 where she won the Charles Lucas medal for composition and the Oliveria Prescott prize for general excellence.
To mark the centenary of her death, in the 2018 Proms, BBC National Orchestra of Wales performed her Nocturne in D flat major. The recording above is the first movement of her Piano Trio (1915) performed by the Prism Trio at Hartford Women Composers Festival in 2019 organised by Illuminate Womens Music a project promoting the work of women composers and performers.
3. Huw Watkins: Piano Quartet
Pianist and composer Huw Watkins has had his works performed by some of the world's leading ensembles including the Nash Ensemble, BBC Symphony Orchestra and the Elias Quartet. In 2010, Alina Ibragimova and the BBC Symphony Orchestra gave the world premiere of Watkins's Violin Concerto. When talking to the BBC, Watkins spoke of the challenges of writing a concerto for violin: 'You have the huge, massive orchestra at your disposal and one small violin (although of course Alina makes a huge sound). The danger is that the violin will be obliterated.' Not wanting to restrain the orchestra he worked to give some 'wild' moments to the orchestra as the soloist rests before 'everything thins out so she can be heard' again.
This recording of Watkins's Piano Quartet is performed by the Schubert Ensemble as part of the group's 30th anniversary celebrations in 2012.
4. Rhian Samuel: Moving Images for violin and piano no.2: 'Fallen Trees'
Born in Aberdare in 1944, Rhian Samuel has composed over 140 published works. Samuel is influenced by her Welsh literary and musical heritage as well as the landscape of her present home in mid-Wales. A graduate of Washington University, Samuel is the co-editor of the New Grove/Norton Dictionary of Women Composers (1994) saying on her website that she 'identifies with her female colleagues in a profession still dominated by males', but as she sees her position outside of the male tradition she finds her journey as a composer full of exciting challenges and opportunities.
Moving Images was composed in 2018, commissioned by Carol Nixon and performed by Elena Urioste and Tom Poster in 2021 at Aberystwyth University. The second in a set of three pieces, 'Fallen Trees' refers to the storms of 2018 when the trees around Samuel's home were felled by the Beast from the East. The piece is 'a lament for what has been lost'.
5. Sir Karl Jenkins: Palladio
Sir Karl Jenkins is arguably best known for his works Adiemus, The Armed Man and Palladio.
Born in Penclawdd, Gower in 1944, Jenkins studied at Cardiff University and the Royal Academy of Music where he is a fellow and associate, and has a room named after him. He holds other fellowships at Cardiff University, the Royal Welsh College of Music and Drama, Trinity College Carmarthen and Swansea Metropolitan University.
In the 2005 New Years Honours, Jenkins received an OBE and five years later received his CBE. In 2015, Jenkins was made Sir Karl Jenkins.
Palladio was composed between 1993 and 1995 for string orchestra. The title refers to the Italian architect Andrea Palladio and is in three movements.