Three quartets and three trios through to Melbourne International Chamber Music Competition finals vying for share of $110,000 prize pot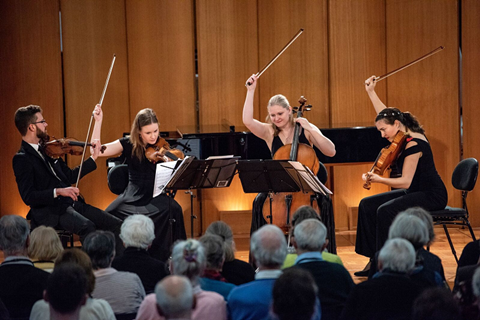 The Melbourne International Chamber Music Competition, which began with eight string quartets and eight piano trios on 1 July, has now reached its final stage. Three of each chamber group remain, and will be vying for a share of the AUD 150,000 (c. USD 110,000) prize pot.
The groups are:
Callisto Quartet (USA)
Eliot Quartett (Austria/Russia/Germany)
Goldmund Quartett (Germany)
Amatis Piano Trio (Netherlands/Germany/UK)
Trio Gaon (Germany/South Korea)
Trio Marvin (Russia/Kazakhstan/Germany)
'It's been an extraordinary week of world-class musicianship,' said Wilma Smith, artistic director of the competition. 'All groups were outstanding and the jury had no easy task nominating those who will continue on to Sunday's grand finals.
'I'd like to congratulate all 16 ensembles who we've had the pleasure of meeting at MICMC,' continued Smith.
'While not all can be "winners" in a competition sense, the standard has been exceptional and it's been a joy to witness their camaraderie and love of chamber music. Whatever the outcome, they've all gained many new friends here in Melbourne.'
The final, at the Melbourne Recital Centre, is at 1pm for the trios and 6pm for the quartets, with a combined awards ceremony at 9pm local time. They will be live streamed here by ABC Classic FM.
The competition is also inviting listeners to nominate their favourite for the audience prize.