Violinists Caroline Pether and Katie Stillman are both graduates of the city's Royal Northern College of Music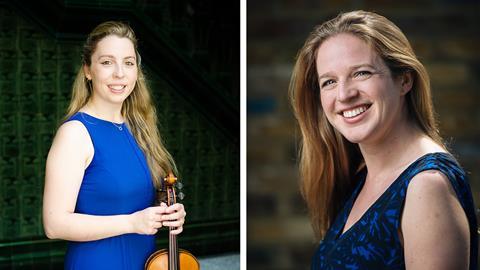 The Manchester Camerata has appointed a new leader, Caroline Pether, and associate leader, Katie Stillman.
Born in the west Midlands, Pether joined the orchestra in 2013 after graduating from Manchester's Royal Northern College of Music (RNCM) and became its co-leader two years later. She teaches violin at the Royal Birmingham Conservatoire and is also leader of Sinfonia Cymru, based in Cardiff.
Canadian violinist Stillman also studied at the RNCM, where she teaches string pedagogy, and has recently joined the London-based Villiers Quartet. She is a violin tutor at Chetham's School of Music in Manchester.
Read Manchester orchestras unite for performance in support of bombing victims and families
Read Leon Bosch awarded honorary fellowship of RNCM
In a statement posted on the Manchester Camerata website, Pether said: 'There is no doubt that this is an extremely difficult time for musical organisations, and our orchestra is no exception. I endeavour to raise awareness of our industry's plight and garner much-needed support for the orchestra and our wider freelance community.'
Manchester Camerata CEO Bob Riley said: 'We're so delighted that Caroline will be the orchestra's leader. It's all about team work here, and therefore it's a double delight that the fantastic Katie Stillman will join us as associate leader. Having two such committed and outstanding people and players in our team puts us in a great position for the challenges and opportunities ahead.'