The British violin teacher and luthier made 50 violins during his life, completing his final one while terminally ill.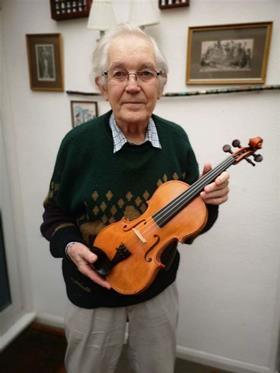 Teacher and luthier Gerald Botteley died of sepsis in Peterborough on Friday 3rd September. He was 88 years old.
Born in 1933, Botteley left school at the age of 15, serving in the Royal Artillery Band for five years. Pursuing an interest in violin making, he went on to work for Edward Withers in London, before later being offered the head of strings teaching position at Oakham School in 1969.
He made 50 violins altogether, completing the final one after being diagnosed with terminal prostate cancer in January 2020. Friend Roger Stimson says, 'I played most of them. They all had very different characters. Gerald always said he let the wood tell him what to do,' He continues, 'Gerald was a truly generous man, he was known to give from his collection of violins to needy students.'
Botteley named his final violin 'Florence' after his wife, who also died the same evening. Stimson told The Strad, 'His daughter told me that they eloped when they were young. She said Gerald whisked her off to get married and now he whisked her off again when he died!'
Botteley also published two books of poetry and a novel, as well as being a former Senior British Chess Champion.
Read: Cellist and editor Nona Pyron has died
Read: French luthier Philippe Dupuy dies aged 88