The cellist joins a roster of previous winners of the Dutch music prize, including Pierre Boulez and Daniel Barenboim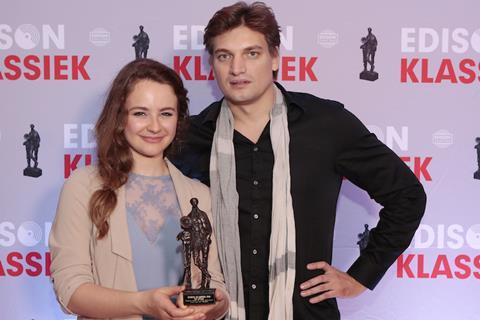 The cellist Laura van der Heijden has just won an Edison Klassiek Award for her debut album '1948', which focuses on music for cello and piano from the Soviet era. The former Young Musician of the Year Winner (2012), together with the CD's pianist Petr Limonov, was presented with the prize on Sunday November 11th at Amsterdam's De Hallen, in a ceremony which was broadcast live on Dutch TV.
'It is not often that a 21-year-old music student receives an Edison Klassiek Award, but we could not ignore the cellist Laura van der Heijden,' said the jury statement. 'Equally rare is that a cellist fills a debut album predominantly with Russian repertoire from after the Second World War.
We know Sergei Prokofiev, but who has heard of Yuri Shaporin? Laura van der Heijden places the two composers side by side and adds Myaskovsky and the 19th-century Lyadov. … Together with the Russian pianist Petr Limonov, Laura van der Heijden delves deep into the Slavic soul. We will doubtless hear a lot more from this cellist in times to come."
Awarded annually for outstanding achievements in the music industry, the Edison Award is one of the world's oldest prizes. Past winners across the Classical, Pop and Jazz/ World categories include Pierre Boulez, Daniel Barenboim, Igor Levit, Janine Jansen, Maxim Vengerov and Jean-Guihen Queryas.
Van der Heijden's performance can be viewed here: