Areta Zhulla will take over leader's chair from Joseph Lin in September 2018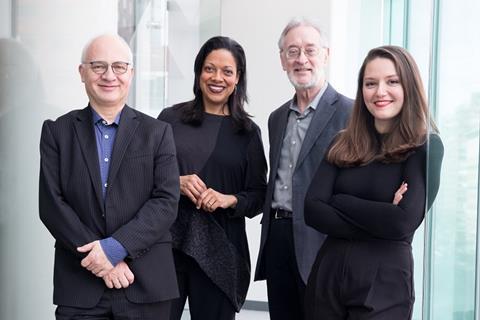 The Juilliard String Quartet has today announced that its first violinist since 2011, Joseph Lin, will step down in September 2018 and the Greek-born Juilliard graduate Areta Zhulla will be taking over.
Zhulla will join existing members Ronald Copes (second violin), Roger Tapping (viola) and Astrid Schween (cello), and will also be taking a full-time position on the Juilliard faculty.
Zhulla has appeared as soloist, recitalist, and chamber musician throughout the U.S., Europe, Canada, and Asia. She was a member of Chamber Music Society Two of Lincoln Center, artistic director of the Perlman-Genesis Violin Project at the Israel Conservatory, and has been on the chamber music faculties of Juilliard's Pre-College Division and the Perlman Music Program, as well as being a teaching assistant to Itzhak Perlman in Juilliard's College and Pre-College divisions.
'It is with great enthusiasm that we announce Areta Zhulla as first violinist of the Juilliard String Quartet,' Juilliard President Joseph W. Polisi said.
'We've watched her transformation from a student in the Pre-College and College divisions to a valued faculty member and now a member of this celebrated ensemble. The JSQ has made history since its creation in 1946 and will continue to inspire our students as well as musicians and audiences around the world.
'I also want to express my thanks to violinist Joseph Lin for his artistry and leadership as a member of the quartet and look forward to his continuing presence on the Juilliard faculty.'
Joseph Lin commented: 'I am forever grateful to my past and present colleagues in the Juilliard String Quartet for their humanity, wisdom, and artistry. Our experiences together exploring the most wonderful and profound music have been inspiring and humbling.
'As I turn now to the loving task of raising three young boys and their newborn sister, I know that these experiences will continue to nourish me as well as my children, and I look forward to bringing them to JSQ concerts for years to come.
Zhulla said: 'As long as I can remember, I have loved string quartets and dreamed of an artistic life immersed in chamber music. The opportunity to join Ronald Copes, Roger Tapping, and Astrid Schween as the newest member of the Juilliard String Quartet is an honor and a dream come true.
'I have always admired the quartet – its tremendous legacy and artistic mission represent something I believe in and hold dear. What's more, from the very first moment I played with my new colleagues, it felt special and right. Now, I cannot wait to build our new voice together, with the integrity and authenticity for which the Juilliard String Quartet is known.'