The competition that celebrates the unaccompanied string works by Bach was won by violinists Lun Li and Tianyou Ma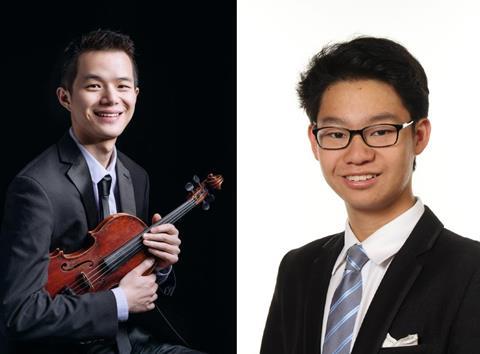 Two violinists have been awarded joint first prize at the 2021 Lillian and Maurice Barbash J.S. Bach Competition on 1 December. They are 25-year-old Lun Li and 21-year-old Tianyou Ma.
Li is a recent graduate of the Curtis Institute of Music, where he gained his bachelors degree studying with Ida Kavafian. He is currently pursuing a masters degree at the Juilliard School with Catherine Cho and Joseph Lin. Ma studied with Keith Crellin at the Elder Conservatorium, University of Adelaide and Diana Galvydyte at the Yehudi Menuhin School, and is now a student of Pamela Frank and Shmuel Ashkenasi at the Curtis Institiute of Music.
They receive $5000 each and will feature as part of the Island Symphony Bach Festival in 2022. The jury consisted of violinists Robert Mealy, Marilyn McDonald and Eugene Drucker; cellist Colin Carr and harpsichordist Arthur Haas.
The competition has been running since 2019 and honours the memory of Lillian and Maurice Barbash, who were lifelong supporters of the arts on Long Island, NY. Participants between the ages of 16 and 30 are required to perform unaccompanied solo Bach by memory. The 2020 competition was won by cellist Maxime Quennesson.
Listen: The Strad Podcast Episode #3: Benjamin Baker on performing solo Bach
Read: Bach Solo Violin Partitas: Lord of the dance
Read: Bach Solo Violin Sonatas: At heart a fugue