The Italian-Venezuelan violinist takes on the position with immediate effect alongside current concertmaster Gregory Ahss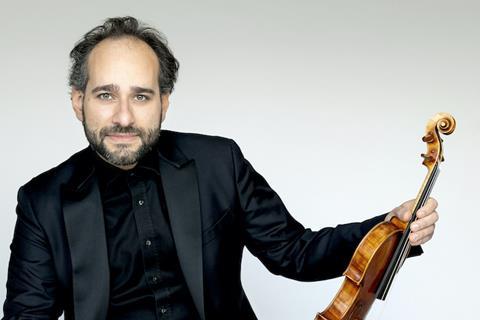 Following a trial period, the Italian-Venezuelan violinist Giovanni Guzzo has been appointed concertmaster of Camerata Salzburg. He will take on the position with immediate effect alongside Gregory Ahss, who has been leading the orchestra since 2012.
Giovanni Guzzo began his musical career at the age of 5 on the piano, adding the violin a year later. At the age of 12 he became the youngest winner of the National Violin Competition 'Juan Bautista Plaza' in Venezuela. He then was supported by French violin virtuoso Maurice Hassan and earned a scholarship to study at the Royal Academy of Music in London.
Guzzo has played chamber music with Joshua Bell, Martha Argerich, Martin Fröst, Miklós Perényi and Daniel Hope, as well as the Maggini and Takács Quartets among others. He has led ensembles including the London Philharmonic Orchestra, and performed as soloist with the Royal Philharmonic Orchestra. He also has substantial previous experience of playing with the Camerata Salzburg, having led and directed the ensemble in a recording with Hélène Grimaud for Deutsche Grammophon and performed in all concerts that Camerata Salzburg gave at the festival 'Mozartwoche' in 2019 and 2020, as well as the Salzburg Festival in 2020.
Read: Venezuelan-Italian Giovanni Guzzo to join Manchester Camerata as leader
Commenting on the appointment, Shane Woodborne, managing director of Camerata said: 'The appointment of a concertmaster for Camerata Salzburg is of equal importance to choosing a chief conductor for other orchestras. We are delighted and full of anticipation that we have found in Giovanni Guzzo and Gregory Ahss two internationally renowned concert masters who are committed to identify with Camerata and its musical tradition.'
Guzzo said: 'It is with greatest pleasure that I have accepted my appointment to become leader of Camerata Salzburg. In recent years it felt like a dream to make music and perform with Camerata, to be joining this musical body in their Musical journey fills me with great enthusiasm.'