She will be replaced by the violinist Krysia Osostowicz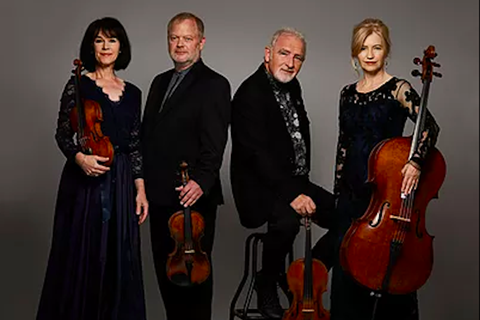 The violinist Gina McCormack has decided to leave the Brodsky Quartet for family reasons. Her husband, Leif, is suffering from MND (Motor Neurone Disease) and she feels she cannot commit to the Quartet's busy schedule when concerts start again.
McCormack joined the quartet as its first violinist in May 2019. She will now be replaced by the violinist Krysia Osostowicz.
Osostowica studied at the Yehudi Menuhin School, at Cambridge University and in Salzburg with Sandor Végh, and has also studied the sonata repertoire with Radu Lupu. She has performed over twenty concertos with orchestra, ranging from Bach to Britten and her CD recordings - both chamber music and solo - have won awards such the Gramophone Award, DeutscheSchallplattenPreis and Diapaison d'Or. She is leader of the Dante String Quartet and principal violinist with the Endymion Ensemble. She previously played for 15 years with the Domus Piano Quartet.
Commenting on her departure, McCormack said: 'Our time together as a quartet was sadly far too short, but I leave with enough fabulous musical and culinary memories to last me a lifetime!'
Read: Brodsky Quartet acquires new violinist
The other members of the Quartet have commented: 'We are immensely sad to be losing Gina. She and Leif will remain at the forefront of our thoughts as they strive to negotiate his illness.
Our short time together was hugely productive, rewarding and immensely fun. Gina has left us with many memories and we shall miss her enormously.
The current performance restrictions however, have allowed us the opportunity to consider our future without Gina. We three have decided to continue working together and are relieved and thrilled to have found a new colleague; the wonderful Krysia Osostowicz.
Krysia has spent her professional life immersed in chamber music, including 25 years with the Dante String Quartet. Having known each other since student days, our similar journeys have converged with serendipity at this new phase in the Brodsky Quartet's life as we approach our 50th anniversary season. Welcome Krysia.'