An outdoor pool in southern Germany has switched swimmers for classical music fans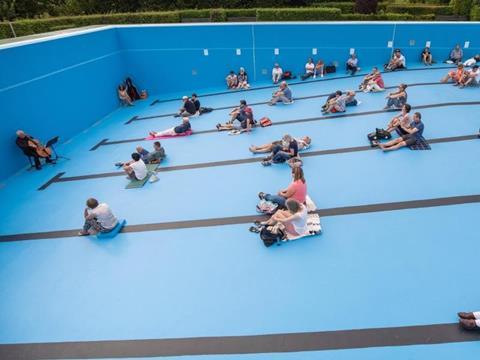 Music lovers in Ammerbruch, a town in south west Germany, have benefitted from the temporary closure of the local swimming pool due to Covid-19.
According to a report in the Süddeutsche Zeitung, the open-air pool has been transformed into an outdoor concert venue with space for 100 audience members seated on cushions at the bottom.
On Saturday, the crowd faced towards the pool's deep end, where cellist Jürgen Gerlinger performed a selection from Bach's Cello Suites at a depth of four metres.
Read: Six tips for performing in an empty concert hall

Read: Rare Guarneri cello goes on display in Cremona
Read: Yo-Yo Ma live streams complete Bach Cello Suites
Although swimming pools across Germany reopened in May, many of them rely on older volunteer staff members who have been unable to return to work.
Other events scheduled to take place in Ammerbruch's water-less pool this summer include a night of Spanish guitar music and a performance on an alphorn, a traditional instrument of the nearby mountains.