Group is only the second string quartet to be named University of Chicago ensemble-in-residence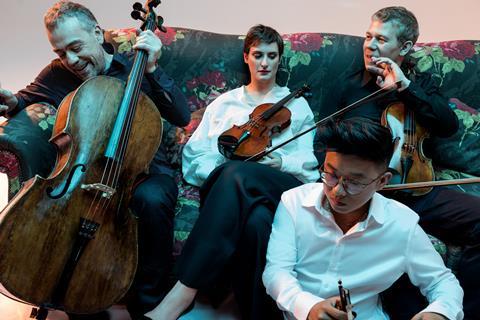 'Epic quality': Quatuor Diotima. Photo © François-Rousseau
French string quartet Quatuor Diotima has been announced as the new Don Michael Randel Ensemble-in-Residence at the University of Chicago for the 2020-21 academic year.
Formed in 1996 by graduates of the Conservatoire de Paris, the ensemble has become known for championing contemporary music, and has collaborated with Pierre Boulez and Helmut Lachenmann. The ensemble, comprising Yun-Peng Zhao, violin; Constance Ronzatti, violin; Franck Chevalier, viola; Pierre Morlet, cello, also has at the centre of its repertoire music of the Second Viennese School alongside Beethoven, Schubert, Bartók, Debussy, Ravel and Janáček.
The ensemble is the second string quartet to serve as ensemble in residence at the university, the first being the Pacifica Quartet in 2013.
'We are very excited to bring our music and our inquisitiveness as an ensemble to the University of Chicago,' said Chevalier. 'Music is a remarkable language that can reveal connections among a great diversity of people and ideas, and it can elucidate seemingly unconnected subjects in new ways.'
'Very few string quartets out there - very few ensembles of any kind, really - harness the history of their own genre as precisely, and with as much poetry, as Diotima,' said Seth Brodsky, associate professor in the department of music. 'Their concerts have an epic quality. They don't just play Schubert next to a Rebecca Saunders quartet from 2017; they tie the two together, they perform the thread between them. They make music history feel like a grand experiment again.'