The appointments including players from the Cleveland Orchestra will begin officially in the 2022/23 academic year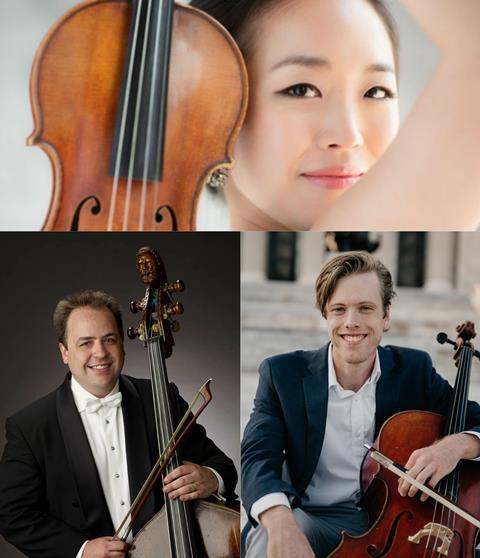 Read more news articles here
The Cleveland Institute of Music (CIM) has announced 21 new appointments in a mass intake across its Conservatory, Preparatory and Joint Music programmes.
The intake, which includes four string players, is part of the CIM's initiative to diversify its faculty to ensure all students have access to a wide array of leaders in their fields.
Principal bassist of the Cleveland Orchestra Maximilian Dimoff, cellist Nathaniel Hoyt, and violist Cristina Micci-Barreca join the faculty for the first time this academic year while assistant concertmaster of the Cleveland Orchestra, Jessica Lee, has been officially announced as part of the faculty after beginning her position during the pandemic.
'We're delighted to welcome so many inspiring performers and educators,' Scott Harrison, executive vice president and provost of CIM said. 'With these artists adding to the shared wisdom here at CIM, our students will be exposed to a broader array of experience and even better poised to take their place as the future of classical music.'
Maximilian Dimoff has been principal bass of the Cleveland Orchestra since 1997 and is returning to CIM where he was head of the double bass department for 17 years, before stepping away in 2017 to teach at the University of Michigan. He has previously worked with Grant Park Symphony Orchestra and Seattle Symphony Orchestra and has coached the National Orchestral Institute and the New World Symphony double bassists.
CIM alumni Nathaniel Hoyt and violist Cristina Micci-Barreca are beginning their first professional teaching positions at the college after both completing their masters degrees.
Hoyt is a founding member of the Amaiera Quartet and winner of the 2019 Eastern Music Festival Concerto Competition, the 2018 Benjamin T. Rome Concerto Competition, and the 2020 Misbin Chamber Music Competition.
Micci-Barreca was named a Houston Young Artist and Texas Music Scholar. She has performed as principal viola in several youth orchestras, including the Houston Youth Symphony and the TMEA All-State Orchestras.
Violinist Jessica Lee was appointed assistant concertmaster (fourth chair) with the Cleveland Orchestra in 2016 and joined the CIM faculty during the pandemic. A Juilliard School and Curtis School graduate, Lee won the Grand Prize at the Concert Artists Guild International Competition in 2005 and has appeared as a soloist all over the world.