Four violinists will compete this weekend for the top prize comprising $30,000, a violin, bows, accessories, plus a career support package and future performance opportunities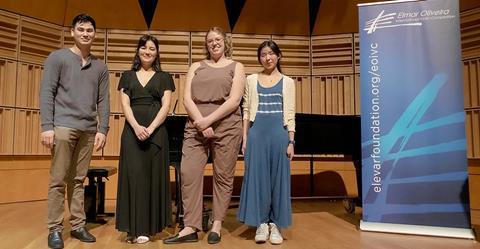 Read more news articles here
Four finalists have been selected to take part in the final rounds of the 2023 Elmar Oliveira International Violin Competition (EOIVC). They are Zachary Brandon (24, US), Gabrielle Després (22, Canada/US), Laurel Gagnon (28, US), and Hina Khuong-Huu (18, France/Japan/US).
The final rounds will be held across two days on Saturday 28 January 7.30pm and Sunday 29 January 3pm at the Keith C. & Elaine Johnson Wold Performing Arts Center, Boca Raton, FL. Two competitors will perform their choice of concerto with the Lynn Philharmonia, conducted by Guillermo Figueroa. Després and Brandon will both perform the Sibelius Violin Concerto on the Saturday, while Gagnon and Khuong-Huu will perform Bartók Violin Concerto no.2 and the Sibelius Concerto respectively on the Sunday.
The final rounds will be available to watch on the EOVIC YouTube channel.
Following the performances on 29 January, the EOVIC will award the prizes, which include first prize worth $30,000 (provided by David and Amy Fulton Foundation); second prize of $15,000 (provided by Tarisio Fine Instruments & Bows); third prize of $10,000 (provided by Price Wealth Management); and Honorable Mention of $5,000 (provided by the family of Gerald and Barbara Arbetter and The Goldberg Foundation)
The first prize winner will also receive career support, including management and public relations representation, as well as a violin provided by Christopher Germain; a silver-mounted bow inspired by Elmar Oliveira's Dominique Peccatte provided by Rodney Mohr; a Musafia Violin Case provided by Christopher Reuning, Reuning & Son Violins; and a PRESTO® Impulse Carbon Fiber Violin Bow (provided by SHAR Music.
The winner will also receive performance opportunities, including a New York City recital provided by Tarisio Fine Instruments & Bows and a performance in Cremona, Italy provided by Amorim Fine Violins; plus over 40 guaranteed national and international performances, as well as coaching sessions provided by The Creatives Leadership Academy.
This year's jury is chaired by Andrés Cárdenes and comprises Ilya Kaler, Ida Kavafian, Irina Muresanu, Barry Shiffman, Almita Vamos and Peter Zazofsky.
The EOIVC is the flagship programme of the Elevar Foundation, established by violinist Elmar Oliveira in collaboration with the Lynn University Conservatory of Music in Boca Raton, Florida in 2016. Open to violinists aged 16 to 32, the competition takes place every three years, with the inaugural edition held in 2017. US violinist Sirena Huang, winner of the 2022 International Violin Competition of Indianapolis, won first prize in 2017, while US violinist Julian Rhee claimed victory in 2020.