The Finnish conductor has been honoured for services to music and UK-Finland relations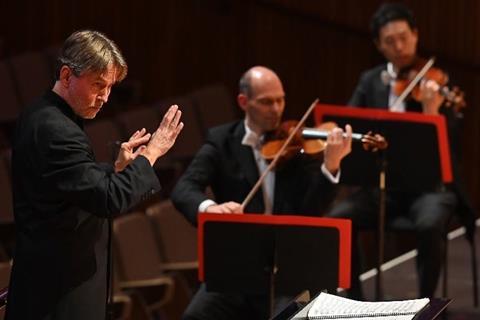 The Finnish conductor Esa-Pekka Salonen has been awarded an honorary knighthood by the UK, for services to music and to UK-Finland relations.
Salonen is currently in his 13th and final year as Principal Conductor and Artistic Advisor of the Philharmonia Orchestra, although he is set to continue his relationship with the ensemble by taking on the title of Conductor Emeritus. Salonen is also conductor laureate of the Los Angeles Philharmonic.
He will be succeeded, at the Philharmonia, by fellow Finn Santtu-Matias Rouvali, who, at 35, will become the youngest ever principal conductor of the orchestra. Rouvali has worked with the ensemble as its principal guest conductor since 2017.
Commenting on the knighthood, Salonen said: 'This is a true personal honour, but more than that, it is meaningful to have artists honoured at a national – at a historical – level. It shows an appreciation of art-making as a necessary part of society. A recognition that culture is who we are, not just what we do. I am grateful for my time in London and throughout the UK with the Philharmonia Orchestra. I share this with them.'
Read: Jennifer Pike awarded MBE
Watch: Nicola Benedetti receives CBE from Prince Charles at Buckingham Palace
Alexander Van Ingen, chief executive of the Philharmonia, said: 'We are hugely pleased that Esa-Pekka's exceptional work with the Philharmonia Orchestra has been recognised with an Honorary Knighthood. It is a fitting honour for the Philharmonia's principal conductor and artistic advisor in his second decade with this great Orchestra; the Philharmonia is very proud to continue creating music with Esa-Pekka – congratulations, E-P!'