The Welsh cellist will replace the quartet's cellist of ten years, Christopher Graves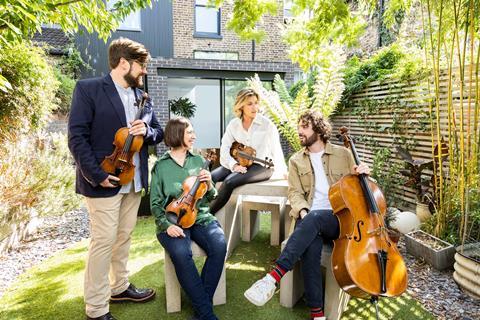 Read more news articles here
The Castalian Quartet has announced that cellist Steffan Morris will be joining the group after Christopher Graves, its cellist for the past ten years, embarks on a career of 'making bows and music closer to home'.
In a statement on the group's Facebook the quartet said: 'We are enormously excited to announce Steffan Morris as the new cellist of the Castalian String Quartet. From our first notes with Steffan, we felt extraordinarily fortunate to be making music together. He has enjoyed a richly varied career as a soloist, chamber musician and orchestral principal and we could not be more thrilled to be embarking on this new chapter with him.'
Morris is currently principal cellist of the Royal Northern Sinfonia and has been a guest principal with orchestras such as the Amsterdam Sinfonietta, BBC Symphony Orchestra, London Philharmonic, Royal Liverpool Philharmonic and Royal Philharmonic Orchestras.
'I couldn't be happier to be joining the Castalian String Quartet,' Morris said. 'I've watched and admired the quartet for many years from the sidelines and I'm delighted to be embarking on this new journey with them. And what shoes to fill! Chris has been a friend and colleague for many years and his contribution to the quartet life has clearly been astounding.
'I felt an immediate connection with Sini, Daniel and Ruth from our first notes together and cannot wait to explore this incredible music together. Joining the Castalians is like gaining a new family, one whose priorities, values and sheer love for music is intrinsic to the life and soul of the quartet. I look forward to learning, playing and exploring over the years to come! But for now… I have notes to learn!'
Morris will begin his Castalian career with two tours of the USA, 'multiple visits' to the University of Oxford as the Hans Keller String Quartet in Residence, and a Britten cycle and premiere of Ungrievable Lives, a collaboration between composer Charlotte Bray and artist Caroline Burraway exploring the experiences of child refugees as artist-in-residence at the Wigmore Hall.
Formed in 2011, the Castalian Quartet studied with co-founder of the Kuss Quartet, Oliver Wille at the Hochschule für Musik, Hannover. The ensemble has since gone on to win multiple awards including First Prize at the 2015 Lyon International Chamber Music Competition, the inaugural Merito String Quartet Award and Valentin Erben Prize, and a Borletti-Buitoni Trust Fellowship. The ensemble was selected by the Young Classical Artists Trust (YCAT) in 2016 and was named Young Artist of the Year at the 2019 Royal Philharmonic Society Awards.
Parting on good terms, Graves said: 'It would be hard to put a decade of quartet life into a few words, but really the main thing I want to say is a heartfelt thank you to my fellow Castalians past and present - there have been so many performances and musical moments which I know I'll never forget. I'm moving on now to give more time to another passion of mine for making bows, but I'm very happy that the others have found Steffan, he and I go back years and I've always thought he was a fantastic cellist and more importantly the real deal as a musician, so I know that their future is bright. As I leave, I also want to say to all the many people who have given energy and direction to the quartet as it has grown up: thank you, we couldn't have done any of it without you!'