Orchestra and choir musicians are needed for a performance of Brahms German Requiem this Saturday in Cambridge, UK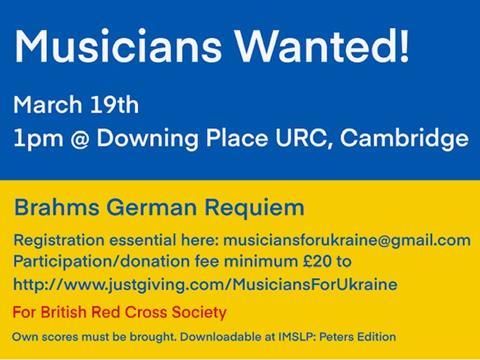 Musicians for Ukraine, organised by the Grade One-a-Thon committee, invite musicians to join an event in aid of war-torn Ukraine.
On Saturday 19 March 2022 Howard Williams will conduct a performance of Brahms' German Requiem led by Steve Bingham. Musicians are invited to donate to participate (minimum £20) to raise funds for the Red Cross at the following 'Just Giving' site: http://www.justgiving.com/MusiciansForUkraine
The event will take place at Downing Place URC in the centre of Cambridge. Rehearsal will take place at 1pm, with a performance at 3.30pm.
Concert dress is blue and yellow.
Choir or orchestra musicians should contact MusiciansforUkraine@gmail.com confirming vocal range/orchestral instrument(s). Instrumentalists will then receive a confirmation of an orchestral place. Places may be limited for some instruments; if no place remains available, musicians are invited to sing instead.
The event will be livestreamed on YouTube and donations will be accepted here.
As the Russian invasion rages into its 19th day, more than 2.5 million Ukrainians have fled the country, in the the fastest-growing refugee crisis since the Second World War, according to the United Nations. Musicians have been finding ways to raise funds for medical and humanitarian aid, from orchestral flashmobs, recording companies donating funds from albums of Ukrainian musicians to charity, plus numerous benefit concerts.