The sessions will take place for three weeks from 5 – 25 July with a final concert on Sunday 1 August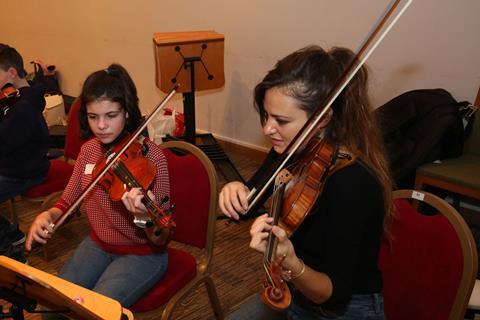 Following the success of their remote workshops during the Covid-19 pandemic, The Benedetti Foundation will hold specialised Baroque sessions throughout July, culminating in a concert on 1 August.
Watch: Nicola Benedetti talks to Sheku Kanneh-Mason
Watch: Nicola Benedetti and friends explore the psychology and physicality of playing
String players of all ages and stages are invited to take part in weekly live tutorials and pre-recorded lessons from Nicola Benedetti, the Foundation's tutors and specialist guest Baroque musicians to help participants learn the new arrangement of Geminiani's La Folia.
There will also be improvisation sessions to illustrate the improvisatory element of Baroque music as well as a group of innovative young dancers led by Imogen Alvares to explore and embody rhythm and expression.
Benedetti says, 'I've long believed that Baroque music in general is an untapped secret for the world of collective and community music making and occupies an odd place in our formative years of learning instrumental music. We can approach these works in ways that inspire fun and enjoyment, a greater sense of togetherness and community, a true abandonment of caution, and an embracing of scratches and scrapes and unapologetic flair. We can, through this music, connect more thoroughly to dance and rhythm, to song and singing through our instruments, and to generally contemporise its relevance'
Watch Nicola Benedetti's introduction to Italian Baroque music: