The violinist and violist, whose 17 years in the Arditti put him at the centre of contemporary music internationally, has died following an illness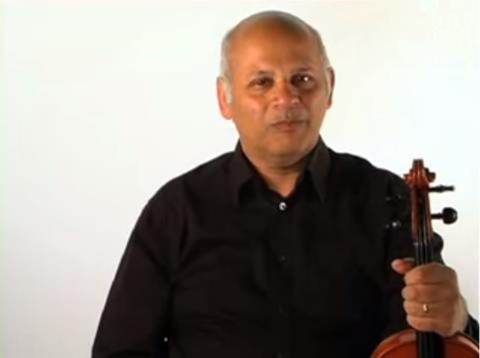 The Indian-born British violinist, violist, conductor and composer Levine Andrade died on the morning of 20 November, aged 64. He had been unwell for some time and was taken into hospital the previous evening, where he spent the next few hours with family.
Andrade was born in Bombay in 1954 and moved to England at the age of 9 where he joined the Menuhin School on scholarship in its first year of operation. He was tutored by Yehudi Menuhin and Robert Masters and began a life-long interest in contemporary music following harmony and composition instruction from Nadia Boulanger and Margaret Hubicki.
He continued his training at the Royal Academy of Music with Frederick Grinke (violin) and Max Gilbert (viola), and played both instruments throughout his career.
While still a student he began to get freelance work with the London Symphony Orchestra and the Academy of St Martin in the Fields, and went on to form the Arditti Quartet with fellow students Irvine Arditti, Lennox Mackenzie and John Senter in 1974. The quartet gathered a host of international accolades, and was invited to every major festival and concert hall – and continues to this day with Arditti himself as the only remaining founding member.
'Levine and I were students together at the Royal Academy of music,' Arditti told The Strad. 'One day I accosted him in a corridor and said, hey, how would you like to play in the Arditti Quartet.
'Before he had even a chance to think about it, we had begun rehearsals and were preparing our first concert with Penderecki. He stayed for 16 years.
'Levine was an amazing conscientious worker and as well as play he also helped me with the running of the quartet. We performed hundreds of new pieces together and had many memories to share long after he left the group.
'He shall be sorely missed as a versatile musician of our time.'
Andrade retired from the intense touring lifestyle of the quartet in 1990 to spend more time with his violinist wife Frances and their children, and maintained an active freelance career in London, as soloist, session and orchestral musician. He also founded the London Telefilmonic Orchestra to undertake film, television and commercial projects.
Frances Andrade died in 2013, and Levine leaves behind four children, Joshua, Olly, Jacob and Lola, and three grandchildren. The family has set up a fund to help with funeral costs and to place in trust for Lola Andrade, who is just 15.