The German violinist honours the Polish conductor and composer whose death was announced yesterday, describing his loss as 'a huge void in my heart'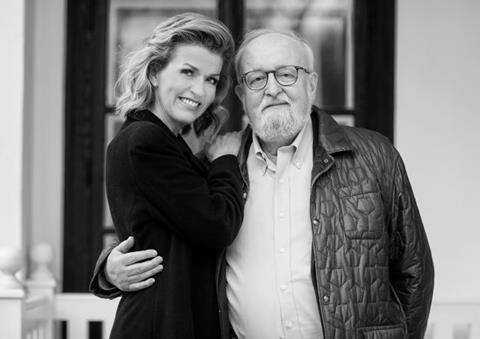 Anne-Sophie Mutter and Krzysztof Penderecki Photo Bartek Barczyk / DG
The violinist Anne-Sophie Mutter has paid tribute to the Polish conductor and composer Krzysztof Penderecki - a longtime friend and musical collaborator who dedicated numerous works to her - whose death at the age of 86 was announced yesterday.
Penderecki first heard Mutter perform as a twelve-year-old, in Beethoven's Violin Concerto with Karajan, and followed her career thereafter. Mutter went on to premiere and record a number of his works for violin over 25 years, among them La Follia variations for solo violin, Duo concertante for violin and double bass, Violin Sonata no.2 and Violin Concerto no.2 'Metamorphosen', which Penderecki wrote for her.
These recordings were brought together on a Deutsche Grammophon two-disc set, Hommage à Penderecki, compiled for the composer's 85th birthday. Penderecki himself conducted the London Symphony Orchestra in the concerto, and Mutter described her deep affinity with 'Metamorphosen' in Sentimental Work, published in The Strad August 2018.
Anne-Sophie Mutter wrote on her Facebook and Instagram accounts:
'The loss of Krzysztof Penderecki leaves a huge void in my heart as well as an enormous one for all musicians and music lovers around the globe.
The premiere of his "Recordare" in September 1984 in Stuttgart was a life changing experience for me. A new era began. His violin concerto "Metamorphosis" became my life line during the terminal illness and death of my husband in 1995.
I had the great fortune to premiere many of his works in the last 25 years. Every piece he wrote for me since has challenged and moved me deeply.
His earth shattering musical language, his mastery of form filled with his deep soul shining through every note of his compositions makes his oeuvre a present to the world.
And getting to know this wonderful man who passionately collected and cultivated trees will forever remain my life's treasure.
"The polish requiem ", "Lukas Passion ", "7 Gates of Jerusalem " and "Threnody for the Victims of Hiroshima" – to name a few – are monumental memorials to mankind.
Let us honour his genius by keeping him alive for eternity in our hearts and concert halls.
My heart goes out to his children and his loving wife Elzbieta. We are grieving with you!'
Anne-Sophie Mutter is the cover artist for The Strad April 2020 issue.