The new initiative will provide music lessons to 1,000 children in the Netherlands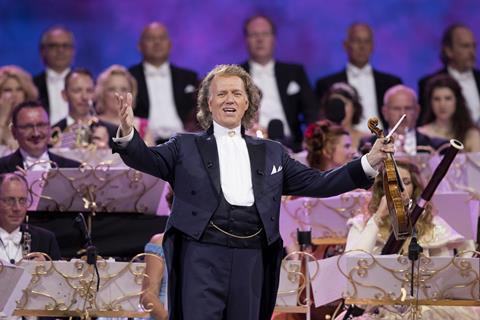 André Rieu says music is 'underrepresented' in education in the Netherlands
'King of Waltz' André Rieu has donated 425,000-euros (£360,000) to a new 'André Rieu Fund' set up by Jeugdfonds Cultuur Limburg, a youth culture foundation in his home province of Limburg in the Netherlands. The fund will provide music lessons to 1,000 children who might not otherwise have the opportunity to learn.
The Dutch violinist and conductor said that under the current education system music is underrepresented in the Netherlands, and many children miss out on the opportunity to learn a musical instrument.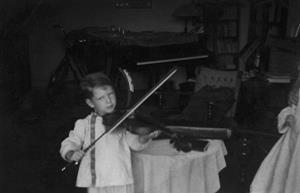 Rieu as a child playing a full-sized violin:
'We were all given the chance to have music lessons since our childhood'
'I would like to give these children the pleasure of making music,' he said. 'My orchestra members and I know how much fun it is to make music every day, and to make millions of people happy with music night after night.
'We were all given the chance to have music lessons since our childhood and were fortunate to learn how to play an instrument,' he continued. 'So we may understand better than anyone else what it means, if you do not get that chance to be involved with music as a child.'
The cost of providing a child with music lessons for a year in the Netherlands is 425-euros (£365). Jeugdfonds Cultuur Limburg hopes that Rieu's donation will highlight the issue of music education and attract further sponsorship.
Musicians in André Rieu's own 60-piece Johann Strauss Orchestra range from age 18 to 80, including generations of the same family.