The Australian-formed string quartet takes away prize money totalling AUD68,000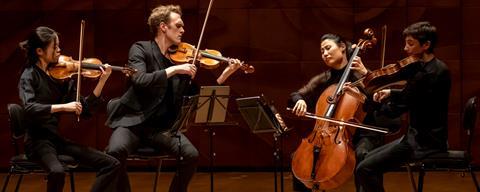 Read more news stories here
The Affinity Quartet has been announced as winner of Musica Viva Australia's Melbourne International Chamber Music Competition 2023. The finals took place on 9 July at Melbourne Recital Centre.
The ensemble receives the Monash University Grand Prize (AUD30,000) and the Robert Salzer Foundation String Quartet First Prize ($30,000), as well as the Audience Prize for String Quartet ($8,000).
Formed in 2015 at the Australian National Academy of Music in Melbourne, the Affinity Quartet is currently based in Madrid. It comprises violinists Josephine Chung and Nicholas Waters, violist Ruby Shirres and cellist Mee Na Lojewski, and will follow up its win with two performances in Canberra's Parliament House on 11 and 12 July.
The New York-based Terra Quartet took second prize of $20,000, and the Risus Quartet (South Korea) third prize ($10,000). The Risus Quartet was also awarded the Quartet Commission Performance Prize of $4,000.
Of the three piano trio finalists, Trio Orelon took first prize ($22,500) and Trio Commission Prize ($3,000). Trio Pantoum was awarded second prize ($15,000), and Trio Bohémo took both third prize and audience prize (both awards worth $7,500).
The Melbourne International Chamber Music Competition (MICMC) is a week-long international chamber music competition for string quartets and piano trios where members are under the age of 37. It was one of the first worldwide music competitions to bring international competitors to Australia. For the 2023 edition, there were 14 competing ensembles, six of which were selected for Sunday's Grand Final.
The competition's 2023 international jury comprised Kirsten Dawes (head of artistic planning at Berlin's Pierre Boulez Saal), violinist Lukas Hagen, cellist Louise Hopkins, violist Hsin-Yun Huang, pianist Amandine Savary, cellist Timo-Veikko Valve and Musica Viva Australia's director of competitions, Wilma Smith.
Musica Viva Australia was formed in 1945 and is Australia's oldest independent professional performing arts organisation, bringing chamber music to more than 230,000 people annually through a range of activities including concert series, competitions and educational and outreach initiatives.
Read more news stories here