The Croatian duo, currently filling stadiums on a US tour, are unable to reach Denver, Colorado due to weather related road closures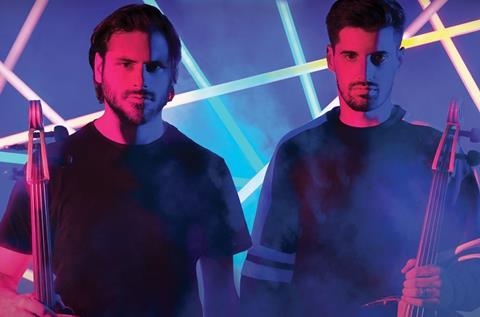 The Pepsi Centre in Denver, Colorado, has announced that the 2Cellos performance scheduled for this evening, 14 February, has been cancelled.
Referring to 'road closures forced by inclement weather' preventing the duo's tour bus from travelling to Denver from the previous stop on the tour in Salt Lake City, the announced also included a message from the group: 'We are so sorry we can't make it – we had a great time when we played Denver on our last tour, we were looking forward to playing an even bigger show at the Pepsi Center.
'Unfortunately the weather isn't allowing us to get there this time. It is frustrating, we really wanted to play for you all. We will be back!'
2Cellos, formed by Luka Sulic and Stjepan Hauser, is best known for instrumental arrangements of pop and rock songs, getting initial exposure on YouTube.
The pair met at a cello masterclass in Croatia while still in their teens, and shot to fame in 2011, after their cover of 'Smooth Criminal' went viral. Since then projects have ranged from a performance in Buckingham Palace to an appearance on the TV Series Glee, while collaborators have included Elton John, Lang Lang, Steve Vai and Zucchero.
Their version of 'Thunderstruck', a fusion of Baroque and Hard Rock, currently has over 140 million views on YouTube.
In October last year, the pair announced that they would be taking a break following this US and an upcoming Australian tour, citing an unsustainable schedule of over 200 flights a year.